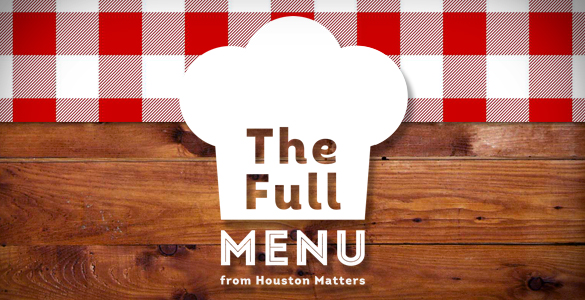 Since football is on everyone's mind in Houston, our gaggle of local food writers are starting their own fantasy league — but not fantasy football.
On the latest installment of The Full Menu, they're creating a fantasy potluck party with a meal comprised of their favorite dishes from around town.
As always, our collection of guests is its own fantasy team of Houston food writers: Eric Sandler of CultureMap Houston, Katharine Shilcutt of Houstonia Magazine and David Leftwich of Sugar and Rice Magazine.
Restaurants Mentioned in this Edition:
Arthur Ave
Quesadillas y Mas Los Parados
Ninfa's on Navigation
Wokker Texas Ranger
Hugo's
Kiran's
Shri Balaji Bhavan
Provisions
Bernadine's
Himalaya
Frenchy's
Ragin' Cajun
Treebeards
Gerardo's Drive-In
Taqueria Tacambaro
La Mexicana
Spanish Village
Huynh Restaurant
Riel Restaurant
Crawfish and Noodles
Luna y Sol
Hunky Dory
La Table
Pax Americana
Killen's Steakhouse
Fountain View Cafe
Giacomo's
Pi Pizza
Love Buzz
Cane Rosso
Fu Fu Café
369 Oriental Bistro
China Garden
Kata Robata
Killen's STQ
Fat Cat Creamery
Maison Burdisso
El Bolillo
Tiny Boxwoods
Brennan's