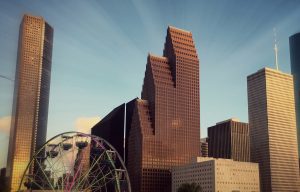 We all have little tricks to make our lives in Houston easier. Maybe yours include avoiding crowds by shopping for groceries during a Texans game. Or maybe you know a special shortcut around traffic.
On this edition of Houston Matters, we invite you to share your Houston life hacks and we hear some suggestions from two guests:
Amber N. Ambrose, freelancer and regular contributor to HighDrive.TV, and Cort McMurray, frequent contributor to the Houston Chronicle's 'Gray Matters'Â column and president of Pelican Pool Service.
Above photo: (Skyline – Ferris Wheel Michael Hagerty)