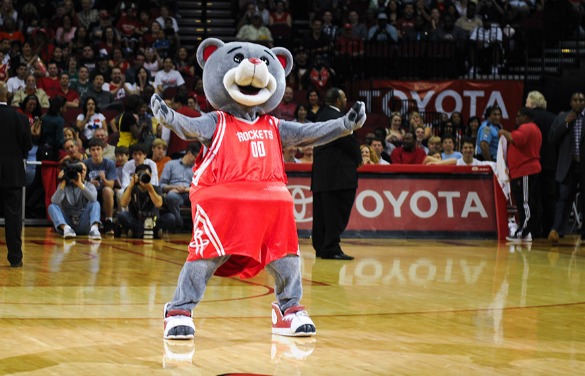 If you've been to a Houston Rockets game, you probably know Clutch, the team's Rockets-jersey-wearing bear mascot, known for in-game stunts, skits – and the occasional pie in the face of a supposed fan of the opposing team. But what you might not know is that it's been the same man inside the Clutch suit for the past 21 seasons – but not next year.
Robert Boudwin, who created the character in the summer of 1995, estimates he's performed around 1,300 games and made some 6,000 appearances over the years.
He recently told Houston Matters producer Michael Hagerty about the challenges of getting fans to accept Clutch and why he's leaving the character he created (Hint: It has something to do with the fact that he and his wife welcomed their second set of twins recently).
(Photo: Jeff Balke | Used by Permission)
MORE:
The Man Behind the Rockets' Clutch the Bear Hangs Up His Sneakers (Houston Press, July 26, 2016)
Rockets Mascot Gets in the Ring (Houston Press, May 2, 2012)