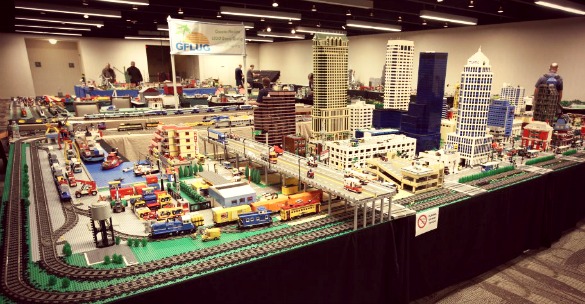 Lego blocks have an ageless appeal. In other words: both kids and adults love playing with them and building unique creations. That fact will be evident at an event at The Westin Galleria Houston this week (July 7-10, 2016) called Brick Fiesta.
The event features a convention for Lego fans and displays of elaborate Lego creations, like a massive train, a city and numerous micro-scale models.
The event, which rotates each year between four major Texas cities, is entirely organized and planned by fans. The last time a large-scale Lego event was in Houston was 2013, when Houston Matters producer Edel Howlin visited Lego KidsFest. She also visited the home of an enthusiast named TJ Avery to get a glimpse of his world of brick building.
Avery and his fellow Lego enthusiasts Sarah Silverman and Mike Taylor are putting on this year's Brick Fiesta — the second time Houston has hosted the event.
Edel caught up with all three of them to discuss this year's event and what it means to meet other Lego lovers.
MORE: All Things LEGO in Houston (Houston Matters, May 17, 2013)