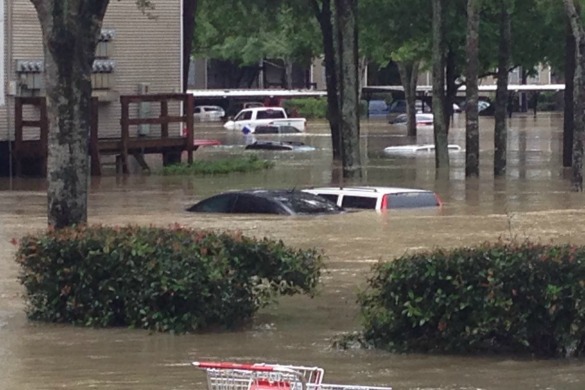 After days of rains and flooding, Harris County officials say the worst is behind us. Now, comes the recovery period. Greater Houston residents are just beginning to assess the damage brought on by this week's storms.
[Above: Cars are submerged at One Westfield Lake Apartments in Spring. Photo by Al Ortiz].
We take a look at the potential health problems associated with mold, and possible legal issues in the wake of the storms.
Also this hour:
Social Security Changes
There's a new Social Security rule going into effect at the end of this month, and it could impact when you decide to start collecting your benefits. We talk with a certified financial planner about your options.
The Good the Bad and the Ugly
Lisa Falkenberg, Monica Richart, and Vlad Davidiuk comprise this week's "non-expert" panel, which parses The Good, the Bad, and the Ugly of intriguing developments in the week's news, including general observations about this week's storms and flooding.
Food Insecurity and Obesity
A new study examines the link between food insecurity and obesity among children of Hispanic immigrants. We talk with a researcher from the University of Houston.
Houston Matters begins at noon.
We also offer a free daily, downloadable podcast here, on iTunes, Stitcher and a variety of other podcasting apps.