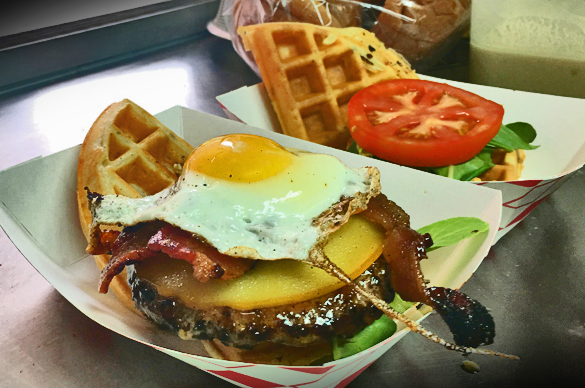 Food trucks have been a staple in Houston for some years now. Some have had so much success as mobile trucks, their owners have expanded to a fleet of trucks. Others have become popular brick-and-mortar restaurants. And when they leave the food truck game, others pop up to fill the gap — while some prefer to remain on the truck scene.
Since we're broadcasting live today from Jones Plaza in Houston's theater district on a Food Truck Tuesday – the district's collaboration with Houston First hosting a number of food trucks near the plaza each Tuesday — we thought we'd have our gaggle of food writers discuss how the food truck scene has changed in Houston in recent years and offer their suggestions for some of the best food trucks in operation today, in this special edition of The Full Menu.
Today's conversation features: Katharine Shilcutt of Houstonia Magazine, David Leftwich of Sugar and Rice Magazine, and Eric Sandler of CultureMap Houston.
(Above: The Morning After burger from the Craft Burger Food Truck. Photo: Michael Hagerty, Houston Public Media)
Establishments Featured in this Episode:
Good Dog Houston
Bernie's Burger Bus
Rice Box
Pi Pizza Truck Van
Melange Creperie
Conservatory
City Hall Farmers Market
Urban Harvest Market
Rice Farmer's Market
Oddball Eats
Ripe Cuisine
Food Music Life
The Toasted
Taco Nuts
Wokker Texas Ranger
The Raven Tower
Taqueria La Macro
Tacos Tierra Caliente
Taqueria Tacombaro
Pollo Asado La Silla
Bansuri
Tandoori Nights
Karancho's
Antojitos Hondurenos
Sabor Venezolano
Taco Keto
El Ultimo
The Waffle Bus
Yeti Sunshine
Roaming Hunger