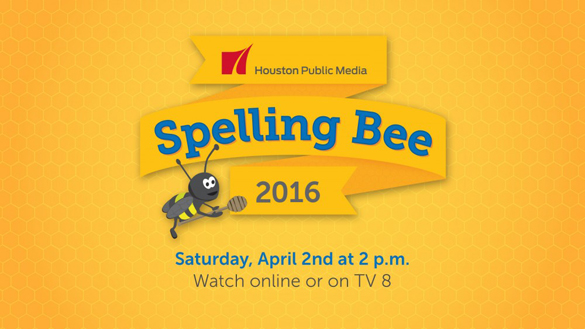 This Saturday (April 2, 2016),
Houston Public Media will hold its annual Spelling Bee
on TV 8, in which the area's best 12-14 year old spellers will compete for a chance to represent the Houston region in this year's
Scripps National Spelling Bee
.
For a (much, much shorter) preview of the competition, we pit Craig Cohen in a spelling bee of our own against champion speller Syamantak Payra. Back in 2014, Payra represented Houston and made it to the semifinals of the Scripps National Spelling Bee. Now a high school sophomore at Clear Creek ISD, he presents workshops for would-be spelling bee contestants.
Joining them for the festivities are three of the many people involved in pulling off a regional bee: Connie Hill, Houston Public Media's spelling bee coordinator; Ernie Manouse, the host of the bee; and Dr. Richard Armstrong, an associate professor of classical studies at the University of Houston. When it comes time for a word to be spelled, someone has to pronounce it clearly and accurately to our region's young spellers. That's Richard's job.
MORE: How Winning the Spelling Bee Changed One Houstonian's Life (Houston Matters, March 28, 2014)