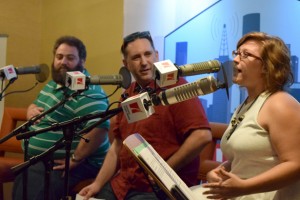 You know that time between breakfast and lunch, otherwise known as brunch? When should that time actually start, and where do you go to have the best brunch in town?
The only people to ask that question of is our foodies Katharine Shilcutt of Houstonia Magazine, David Leftwich of Sugar and Rice Magazine, and Eric Sandler of CultureMap Houston.
Here's their brunch recommendations on this edition of The Full Menu.
Restaurants Mentioned in this Segment:
OPORTO Fooding Houston and Wine
Brennan's of Houston
Hugo's
Caracol
Arco Seafood Restaurant
Golden Dim Sum
Fung's Kitchen
HK Dim Sum
Pondicheri
Weights + Measures
Downhouse
The Honeymoon
Blacksmith
Picos Restaurant
Thien An
Hotel Galvez
Four Seasons Quattro
Rio Ranch
Backstreet Café
Empire Café
Foreign Correspondents
Hunky-Dory