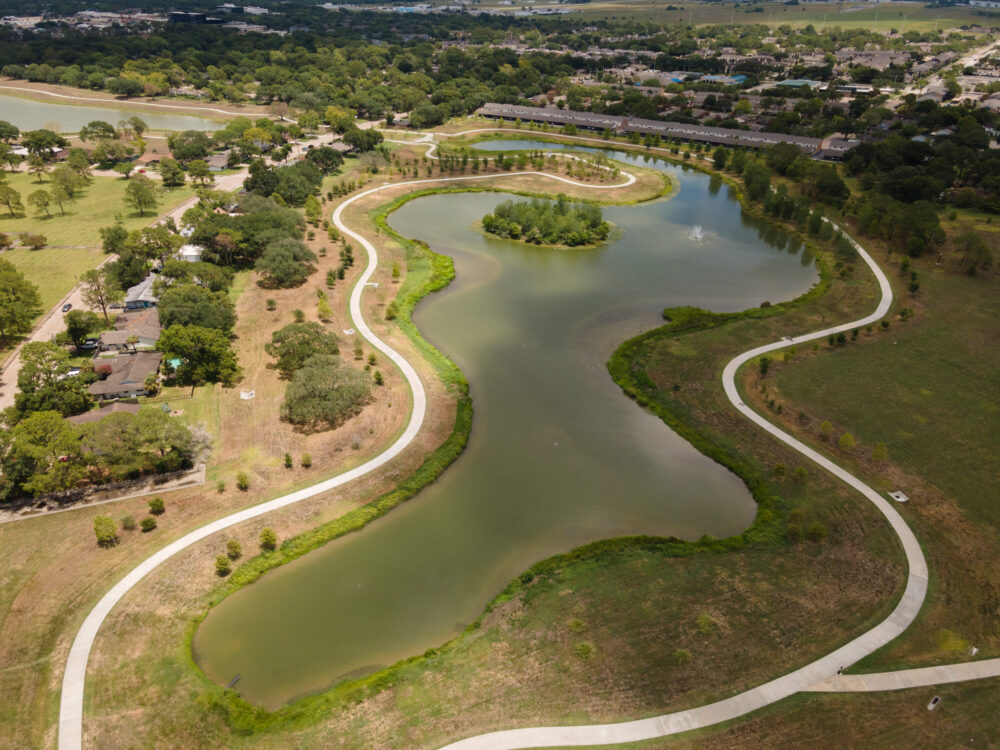 Below the Waterlines: Houston after Hurricane Harvey marks five years since the region's worst flooding disaster. It's a multi-media project that looks at how well Houston has recovered from Harvey and how prepared it is for the next storm. We produced a five episode podcast, an eight-part series broadcast on Houston Public Media, a one-hour radio special, and written web stories for each episode that pull together data, photos, and videos on topics ranging from green infrastructure solutions to home buyouts. Find all five episodes and read each story by clicking on the link above. Email us your feedback and ideas for follow-up stories as we continue to cover flooding in the Houston region.
On a muggy Monday morning at Exploration Green in Clear Lake, walkers are on trails that meander along natural-looking ponds. Red-winged Blackbirds chirp in the distance and rabbits hide in the tall grasses and reeds.
It's a public greenspace and nature preserve — it's also a massive flood detention project.
"What you'll see most of the time is just a square hole in the ground with a chain link fence around it, and it really doesn't support much in the way of life," said David Sharp with the Exploration Green Conservancy. "You can see this is nothing like that."
Construction on the $43 million project's fifth and final retention pond is set to wrap up next year. During storms, the five ponds will each be able to hold 100 million gallons of floodwater. Once they're full, the water will slowly drain into the bayous.
"The whole design of the retention ponds is to slow down the flow of water so you don't get that surge of water hitting the local bayous," said Sharp.
When it's not raining, the site's ponds contain water to support native plant and animal life. There are six miles of walking trails looping around them, thousands of native trees and 200 different native plant species.
The project is a collaboration between the conservancy and the Clear Lake City Water Authority. It first started in 2005, according to John Branch, the president of the water authority's Board of Directors.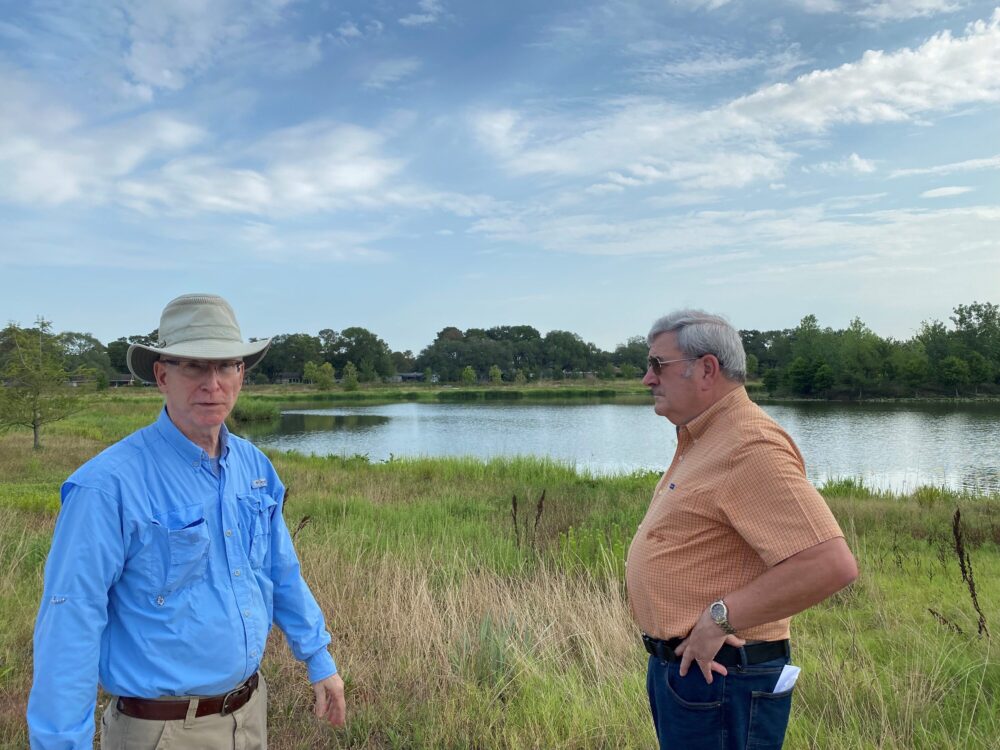 Branch said flooding was getting worse in Clear Lake, so they hired a consultant who recommended putting in detention ponds. There was an abandoned golf course that seemed like the perfect location, and they wanted to do something unique. So, they held a town hall.
Ideas started piling in: wetlands to help clean the water, hike and bike trails, a bird habitat island.
"We've got a lot of talent in the Clear Lake area — rocket scientists and people that are great at coming up with ideas," said Branch.
But not everyone was on board.
"People didn't think it would work," he said. Some people wanted to develop the land. Others feared the water would turn it into a breeding ground for mosquitoes.
Harvey put the project to the test. When it hit in 2017, the first pond was nearly complete.
"I couldn't wait for the street water to go down long enough so I could hop in my pickup [truck] and come over and see, is it really working?" Branch said.
And he wasn't disappointed. The pond filled with stormwater, and based on insurance claims that had been filed during previous flood events, Branch said they estimated it saved 150 homes.
Beverly DeMoss lived in one of those homes. She said flooding from a storm in 2015 damaged her house when water seeped under the carpet.
"It was a major mess," she said.
But her house stayed dry during Harvey. Shortly after, DeMoss said she saw John Branch with the Clear Lake City Water Authority at church.
"I went up and hugged him and said 'John, you saved my house,'" she said.
When all five phases of Exploration Green are complete next year it will be able to hold half a billion gallons of water during storms — enough to save about 2,000 homes from flooding.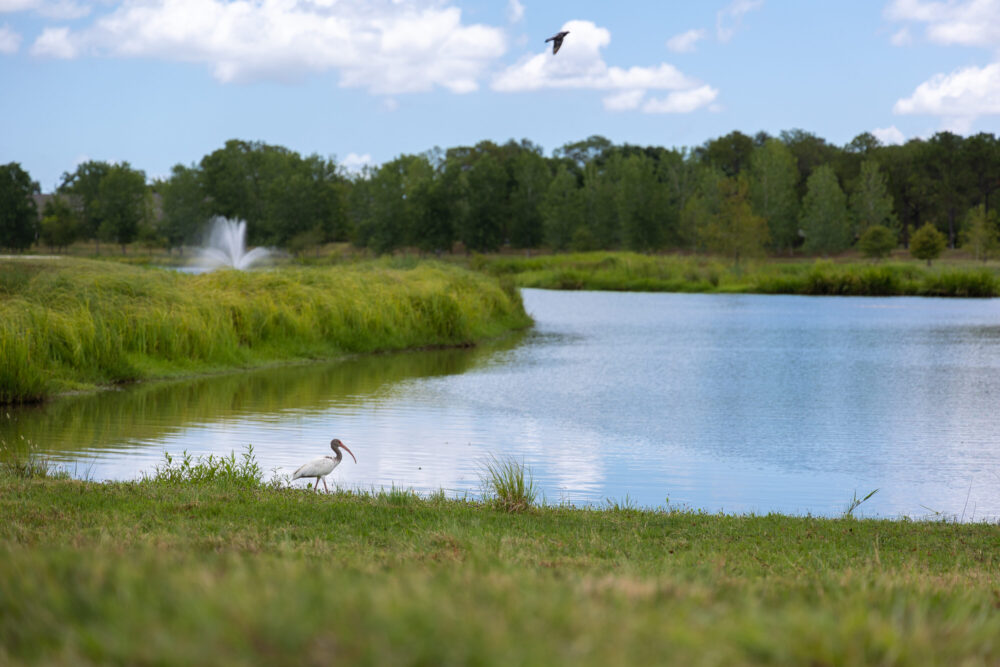 Exploration Green is frequently cited as one of the best examples of green infrastructure — both locally and nationally. Unlike traditional gray infrastructure which uses concrete to quickly channel floodwaters into local water bodies, green infrastructure uses or mimics nature to slow down, absorb and filter rainwater where it falls.
Green projects aren't always prioritized for funding, but that's changing. Federal agencies like FEMA, the Army Corps of Engineers, and the EPA, all have guides on how to incorporate nature-based solutions. And around Houston, nature-based projects have been gaining traction as a way to tackle the region's flooding issues, while also providing public greenspace.
"We're seeing around the world, there's more of an emphasis on these nature-based systems for flood mitigation," said Danielle Goshen with the National Wildlife Federation's Texas Coast & Water program.
She said with nature-based solutions, the ecosystem is the infrastructure— whether that's through preserving a big tract of land or recreating nature in an urban environment, like with Exploration Green.
"Nature has an amazing ability to be able to store, slow and soak water into the ground," she said.
Beyond flood mitigation, green infrastructure comes with a lot of co-benefits. It can also be a recreational space and a wildlife habitat. It can improve water and air quality, capture carbon, reduce urban heat, and minimize erosion.
"Unfortunately, through all the development that's occurred, and the way that it's occurred in the Houston area, we've massively disrupted nature's ability to be able to provide those benefits," said Goshen.
The Natural Sponge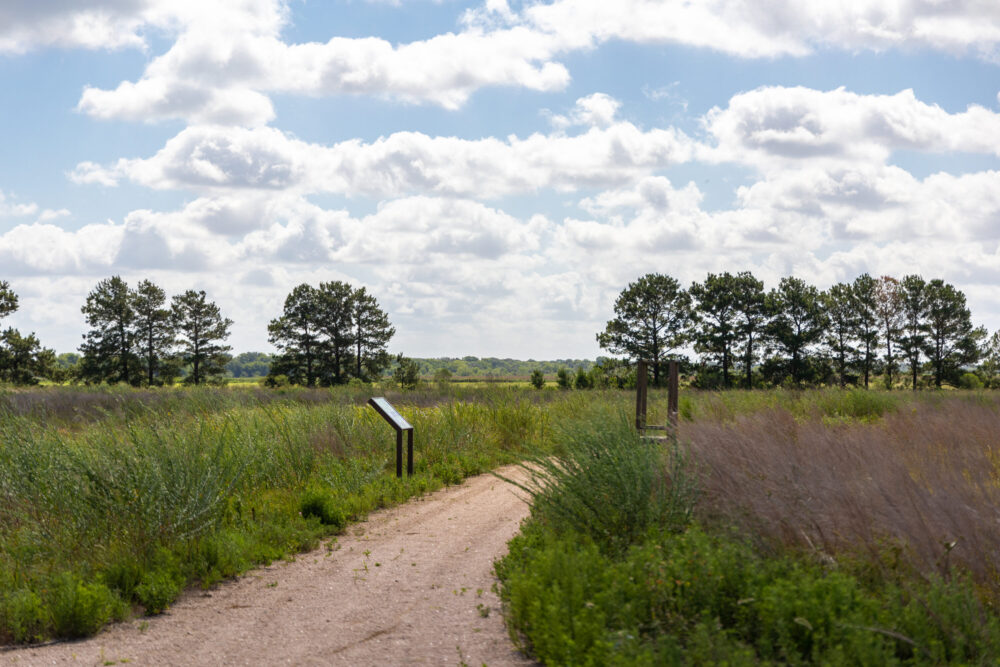 When settlers first arrived in Southeast Texas, native prairies and wetlands stretched for miles, their tall grasses in an array of colors billowing in the wind, grazed on by herds of buffalo. Nature's original sponge.
Of the 6.5 million acres of prairies that once existed along the Texas Coast, less than 1 percent remain today, according to Houston Wilderness. From 1992-2010, as the population of Greater Houston skyrocketed, it lost at least 5.5% of its natural freshwater wetlands, according to another study by Texas A&M Agrilife. The researchers say that number is unsustainable.
"Some areas experienced loss at rates that are catastrophic," wrote the researchers. "For example, Harris County lost almost 30 percent of its freshwater wetlands, including most prominently the iconic prairie pothole-pimple mound complexes."
Groups like the Coastal Prairie Conservancy have worked to preserve the remaining prairies and restore additional land, according to Mary Anne Piacentini, president of the Coastal Prairie Conservancy.
"Our hope is that it's wild enough that people understand this might have been what it was like in terms of historic prairie," she said, while standing on their restored Indiangrass preserve in Waller County. "But it's hard to recreate nature, so it's never going to be totally pristine."
Piacentini said their goal is to conserve 30,000 acres of the Katy Prairie. So far they've preserved about half that.
"The cost of the land has gone up exponentially," she said. "When we first started buying land, it was about $800 an acre. Now the land is anywhere from $10-$15,000 an acre."
Piacentini said they think preserving and restoring prairie should be a key part of the region's flood mitigation strategy, particularly as development continues to expand westward.
"Our lands cannot eliminate flooding, but they can help reduce flooding," she said.
There are numerous reasons why the prairie landscape is so good at flood mitigation. The roots, the topography, the plants themselves all work together to help slow down and absorb water.
"People think of a prairie as flat, but the truth is, it's not flat," Piacentini said. Prairies have micro depressions, known as potholes, and small mounds, known as pimple mounds. This uneven topography helps slow down floodwaters.
"As you can imagine, if you were trying to run water through this, it would be a lot harder here than it would be if we were putting water on a flat surface," Piacentini said.
Tall, native prairie grasses also have roots as long as 15 feet. And when those roots go down into the soil they create passageways for water to infiltrate. On top of that, the grasses themselves can also hold water.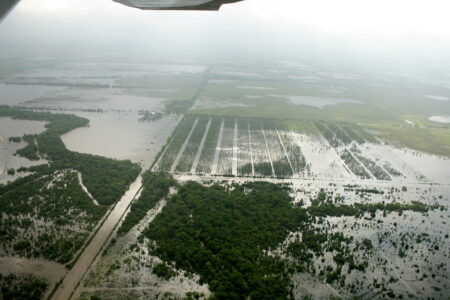 "The first inch of rain sometimes is actually on the plant above the ground," said Piacentini.
The prairie landscape also includes wetlands, which retain additional water. One acre of wetland habitat can store about 1-1.5 million gallons of water, according to the EPA.
Wetlands are also really good at improving water quality and filtering out pollutants.
"Wetlands are called nature's kidneys for a reason," said Piacentini.
Improving water quality
This ability to improve water quality is particularly important in urban areas, and one of the key co-benefits of using green infrastructure for flood control. When it rains, pollutants like fertilizer, dog poop and other chemicals get into the waterways and can end up in Galveston Bay.
"What we look at is do these nature based solutions enhance water quality by treating bacteria?" said Roberto Vega, an environmental quality section leader with the Harris County Flood Control. "Does it remove that pollutant, from the waterway and when we discharge from our facility is that water coming out cleaner than it came in?"
That's why Harris County Flood Control is piloting a project to build floating wetlands inside detention ponds. The current pilot is set up at a pond at the University of Houston Clear Lake Campus, where Flood Control has installed three floating structures that can support plant life.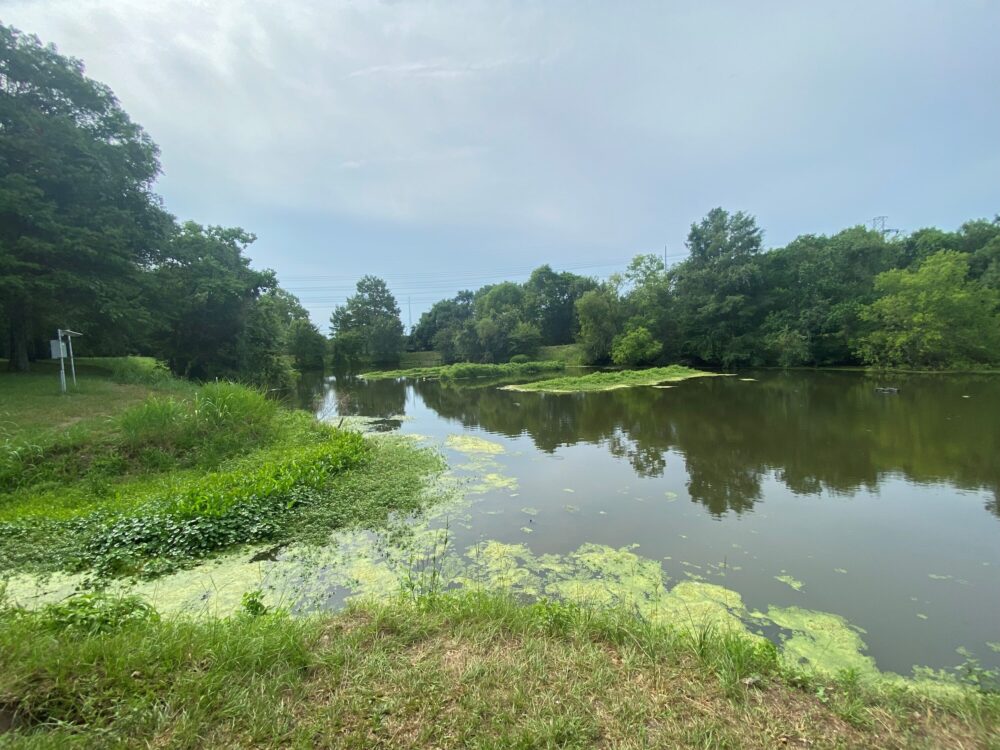 The plants have completely overgrown the man made elements, giving them the appearance of naturally existing islands in the middle of the pond. Turtles, herons, and other wildlife have also taken over.
Vega said when it rains, the islands rise with the water instead of being inundated.
"So the root system, which actually can be 10, 12, 13 feet long, is rising with that, and it's actually interacting with 13 feet of water column," he said. "So it's having a better contact that's treating the bacteria."
And because the structures are floating they can be moved around using canoes and strategically placed to treat water where it's needed.
"If you only have wetlands at the water's edge, you're only getting treatment at that point," Vega said.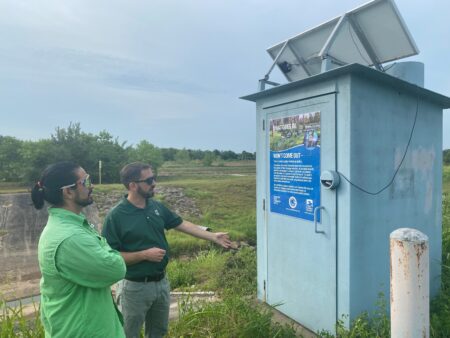 He said so far the results show the floating wetlands are highly effective at removing bacteria.
Next, Flood Control plans to test them at a larger detention basin where each floating island will be 3,000 square feet — roughly 10 times the size of the current pilot project.
Small scale solutions
Green solutions can also be scaled way down, and applied at individual sites to reduce street flooding or site-specific flooding issues.
"Rain gardens are probably one of the smallest and cheapest things that you can build to have an effect," said Robert Snoza with the Harris County Flood Control District.
Snoza is heading a pilot project to build five rain gardens on lots across the county that were bought out after the homes there repeatedly flooded. The rain gardens themselves will only take up about 10% of the lots and look like standard flower gardens.
"The area will be mulched and there will be intermittent plants," Snoza said, standing at the site of a future rain garden in Northwest Houston, in the Cypress Creek watershed.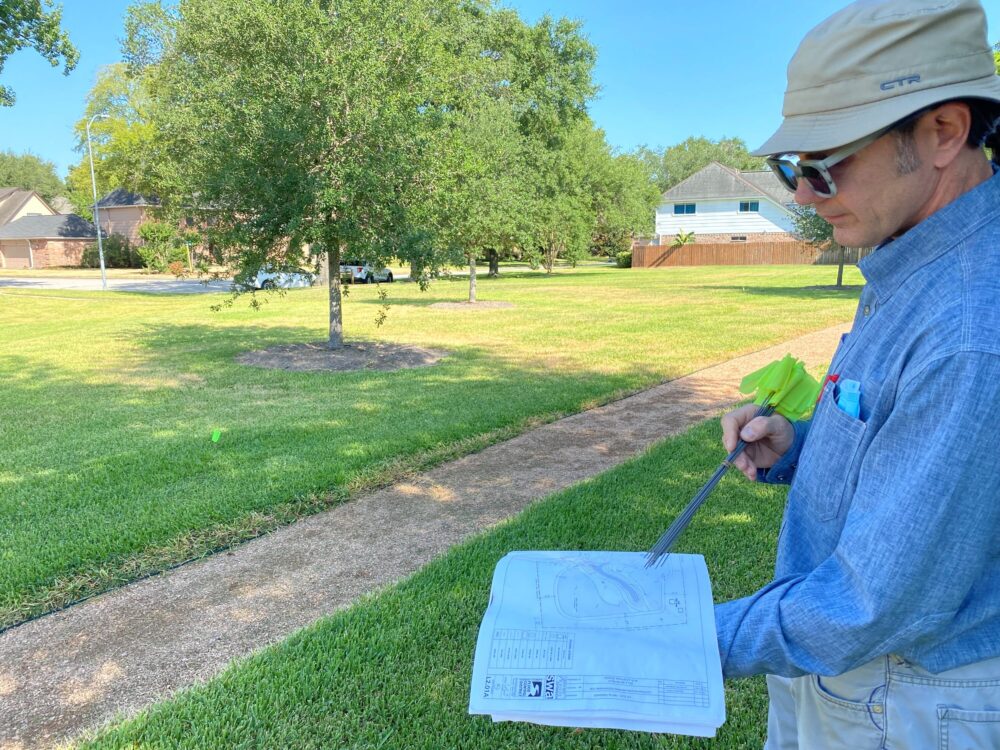 The key is that the garden will be depressed to collect stormwater. The compact soil will also be replaced with looser soil to allow the roots to grow deeper.
"It will in certain smaller storm events just not be a burden on or not add anything to the storm sewer system that everybody else is using," Snoza said.
The topography of the rest of the site will help lead the water into the rain garden. Flood Control also plans to have signage to educate people on how to build a simple rain garden on their own property.
"One rain garden is not going to do much for anything but this right here," Snoza said. "But what if 25% of the people in Houston had a rain garden on their property? I think it would have a pretty big effect."
Ensuring equity
When it comes to green solutions, advocates say involving the community in the planning is key — that's part of what made the Exploration Green project so successful. And what works for one community might not meet the needs of another.
In low-income communities, in particular, it's important to talk about the many years of infrastructure disinvestment, according to Ayanna Jolivet Mccloud, the Executive Director of Bayou City Waterkeeper.
"You first have to acknowledge that there's inequities around gray infrastructure, particularly around stormwater planning and flood infrastructure," Mccloud said. "If you come and try to solve the solution around green infrastructure without acknowledging inequities around gray infrastructure, then it's not a holistic approach."
Mccloud said it's important to have both gray and green solutions be a part of the conversation.
"So often it's either we have to advocate for gray infrastructure, or we have to advocate for green infrastructure. But in a city like Houston, I believe that has to be both," she said.
Mccloud also said nature-based infrastructure doesn't always have a positive connotation for all communities. She grew up in Houston and said in her neighborhood people associated open-ditch drainage with nature-based infrastructure.
"Unfortunately, usually that natural infrastructure is in predominantly Black and Brown communities, and it creates a lot of health issues in those communities," she said. "We have to rethink the framing so that it can be more inclusive, and then we can center more community voices."
Mccloud also said it's critical to ensure green solutions don't lead to green gentrification, which is what happens when green amenities raise property values and push out long-time residents.
But even with the challenges, she believes Houston's diverse ecosystem offers the opportunity to be creative with green solutions.
"Because we are on the frontlines of climate change, we have to really think innovatively and work with nature in this way," she said.
Hurricane Harvey already showed just how powerful climate change is making storms. Some areas got 50 inches of rain, and studies show heavier rainfall is one of the hallmarks of climate change.
And with more and more water, many experts say we will need to create additional greenspace and move people out of harm's way.
"I think we will learn to live with more water moving through the city. Eventually we'll have to make more space. The rivers, the bayous and streams are just going to demand more area to convey more water," said Jim Blackburn, the co-director of Rice's SSPEED Center, which studies flooding in the region. "As part of this making room for water, we just ought not to be living that close to the waterways."
In the next part of Below the Waterlines, we look at how buyouts are used to move people out of flood prone properties and convert the area to greenspace.