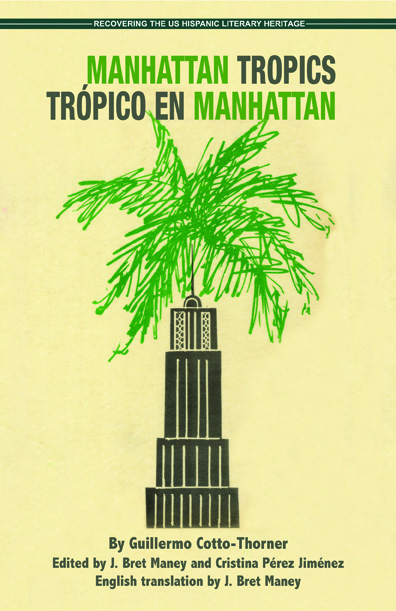 In 1938, journalist, civic leader and Protestant minister Guillermo Cotto-Thorner migrated with his family from Puerto Rico to New York City. In 1951 he published Trópico en Manhattan / Manhattan Tropics, one of the earliest novels depicting the daily lives and challenges facing Puerto Ricans who have recently arrived in New York City.
As part of the Recovering the US Hispanic Literary Heritage Project, Arte Público Press has published the first bilingual version of Manhattan Tropics with translation by Dr. J. Bret Maney.
The novel follows young Juan Marcos Villalobos, who after working for several years as a teacher in his native Puerto Rico, decides to try his luck in New York City. As he settles in with family friends and finds a job as a department store gift wrapper, Juan Marcos is disturbed by the poverty, prejudice and lack of respect experienced by many of his fellow Latinos in the United States.
Juan Marcos decides to combine his interest in literature, music and art with his desire for greater respect for his fellow Puerto Ricans by starting a strictly non-political cultural organization called Hostos. As president of Hostos, Juan Marcos finds that he must face the challenge of keeping artistic expression separate from political expression.
Listen to the full interview with Houston Public Media's Eric Ladau and Dr. J. Bret Maney in the audio below.