Listen
J. Mason Brewer
March 24, 1896–January 24, 1975
Scholar and folklorist John Mason Brewer was born in Goliad in 1896. Over his fifty-year career, Brewer almost single-handedly preserved the African American folklore of his home state.
Brewer's grandfathers were wagoners who hauled dry goods across Texas. His father worked as a cowboy, traveling to the Indian Territories and Kansas. The stories they told fostered Brewer's love of folk tales, while his mother, Minnie, a schoolteacher, inspired him to make scholarship his life's work.
When Brewer graduated from Wiley College in 1917, he worked as a teacher and wrote poetry. But he also collected the folk tales he heard at schools and churches, in general stores and barbershops—the places of everyday life for black Texans.
While teaching in Austin in the 1930s, Brewer shared some of his tales with folklorist J. Frank Dobie. Impressed, Dobie arranged for their publication under the title Juneteenth.
Many more books followed, filled with tales that Brewer learned first-hand from Texas's former slaves and their descendents. Recorded in the dialect of their tellers, the stories revolve around preachers and overseers, husbands and wives, reflecting the hardship and humor of the "coming-up times" after slavery.
Brewer became the first African American member of the Texas Folklore Society and the Texas Institute of Letters. His books serve as a timeless record of Texas storytelling, and powerful proof of what he called "folklore as a living force."
For More about J. Mason Brewer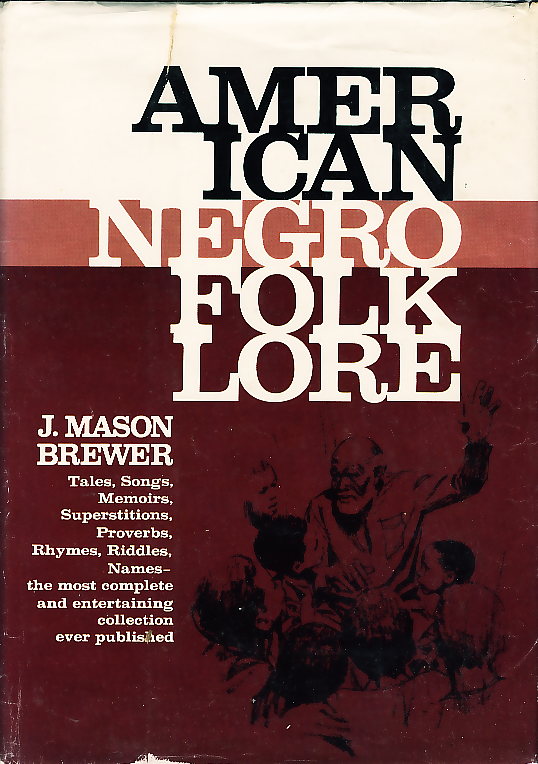 Dust jacket of American Negro Folklore (1968), which Brewer edited.
In 1999, the Harry Ransom Center at The University of Texas at Austin displayed the exhibitionAunt Dicy Tales: John Biggers' Drawings for the Folktale, which consisted of illustrations of. J. Mason Brewer's 1956 book Aunt Dicy Tales: Snuff Dipping Tales of the Texas Negro by artist John Biggers. The exhibition catalogue is viewable online.
The Oral History Collection at Texas Tech University's Southwest Collection contains a June 26, 1969, interview with Brewer.
Humanities Texas provided grant funding for Goin' On, a short film by William McRae on J. Mason Brewer's life and contributions. Released in 1981 by Alamira Productions, the film was produced by the Texas Folklore Society and the Texas Commission on the Arts and Humanities. It is available via interlibrary loan.
Selected Bibliography
Brewer, J. Mason, ed. American Negro Folklore. Chicago: Quadrangle Books, 1968.
Brewer, J. Mason. Dog Ghosts and Other Texas Negro Folk Tales. Austin: University of Texas Press, 1958. Brewer, J. Mason. Juneteenth. Austin: Texas Folklore Society, 1932.
Brewer, J. Mason. The Word on the Brazos: Negro Preacher Tales from the Brazos Bottoms of Texas. Austin: University of Texas Press, 1953.
Byrd, James W. "Brewer, John Mason." Handbook of Texas Online. http://www.tshaonline.org/handbook/online/articles/fbrbb).
Byrd, James W. J. Mason Brewer: Negro Folklorist. Southwest Writers Series No. 12. Austin: Steck-Vaughn Company, 1967.
Davis, Steven L. J. Frank Dobie: A Liberated Mind. Austin: University of Texas Press, 2009.
Glasrud, Bruce A. "From Griggs to Brewer: A Review of Black Texas Culture, 1899­–1940," Journal of Big Bend Studies 15 (2003): 195-212.
Glasrud, Bruce A. "Brewer, John Mason." BlackPast Online Encyclopedia (http://www.blackpast.org/?q=aaw/brewer-john-mason-1896-1975).
Turner, Kenneth W. "Negro Collectors of Negro Folklore: A Study of J. Mason Brewer and Zora Neale Hurston. M.A. thesis, East Texas State University, 1964.