Listen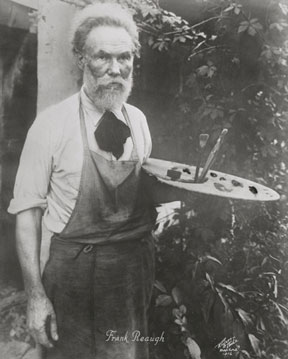 Frank Reaugh with palette, 1916.
Charles Franklin (Frank) Reaugh
December 29, 1860–May 6, 1945
The series of pastels titled Twenty-four Hours with the Herd depict an iconic Texas scene: the cattle drive. Artist Frank Reaugh completed the series in the 1930s, but they portray an earlier chapter of Texas history, when fences had not yet crossed the landscape, and men and cattle moved freely on the open range.
Born in Illinois in 1860, Reaugh moved to Texas when he was fifteen. His family grew cotton, but young Frank was interested in art and nature, and divided his time between the family farm and studying art in St. Louis and Paris.
Reaugh soon gained a reputation for his luminous, impressionistic landscapes. Several were exhibited at the World's Fairs of 1893 and 1904. Another favorite subject was the Texas longhorn, which he had studied carefully while following the herds along the Red, Wichita, and Brazos Rivers. His most famous works feature this emblem of the state in its natural habitat, the Texas plains.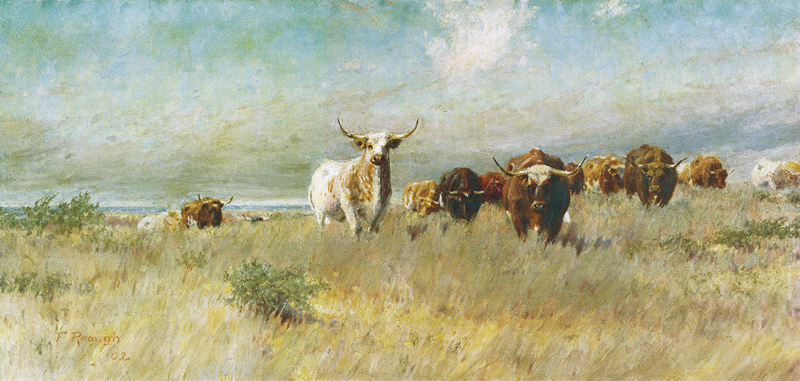 Known as the "dean of Texas artists," Reaugh was also a popular art instructor. He founded the Dallas School of Fine Arts and often led students on sketching trips throughout his beloved southwest.
A master of color, shading, and detail, Frank Reaugh recorded what he called "the broad opalescent prairies" as he saw them more than a century ago. His works are on view at the Texas Capitol and at museums around the state.
Frank Reaugh, Driving the Herd, ca. 1932. Harry Ransom Center at The University of Texas at Austin.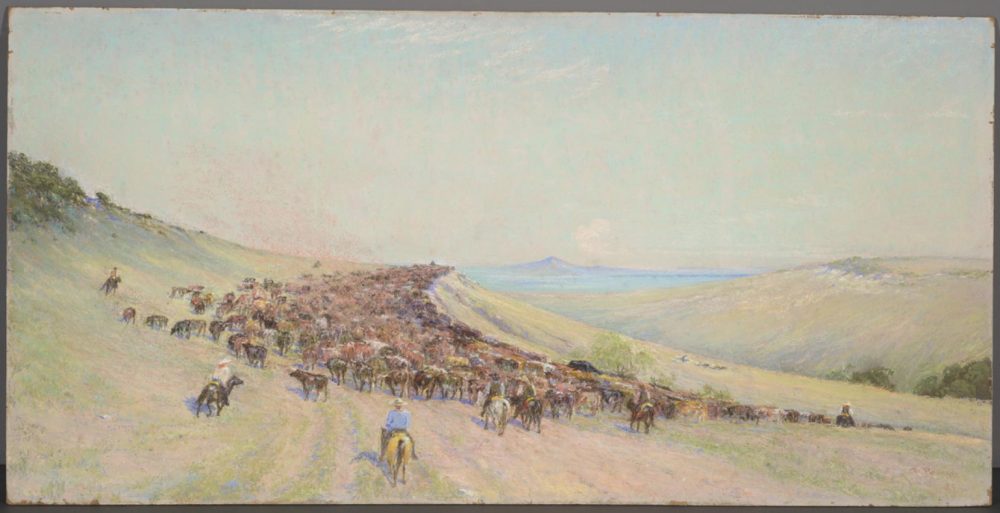 Selected Bibliography
Ennis, Michael. "Best Western." Texas Monthly, October 2001.
"Frank Reaugh," Harry Ransom Center. (http://www.hrc.utexas.edu/collections/art/holdings/texas/reaugh/). Accessed June 24, 2012.
Frank Reaugh: Painter to the Longhorns. Introduction by Donald L. Weismann. College Station: Texas A&M University Press, 1985.
Haley, J. Evetts, F. Reaugh: Man and Artist. El Paso: Herzog, 1960.
Reaugh, Frank. From Under a Mesquite Tree: An Artist's Life on the Texas Plains. As told to Lucretia Donnell. Gardner Smith and Robert Reitz, eds. Oak Cliff, TX: Sun and Shadow Press, 2005.
Reaugh, Frank. Paintings of the Southwest. Dallas: Wilkinson Printing, 1937.
Stroud, Alice Bab and Modena Stroud Dailey. Frank Reaugh. Dallas: Royal, 1962.
Wittenbach, Stefanie. "Reaugh, Charles Franklin." Handbook of Texas Online (http://www.tshaonline.org/handbook/online/articles/fre05). Accessed June 24, 2012.