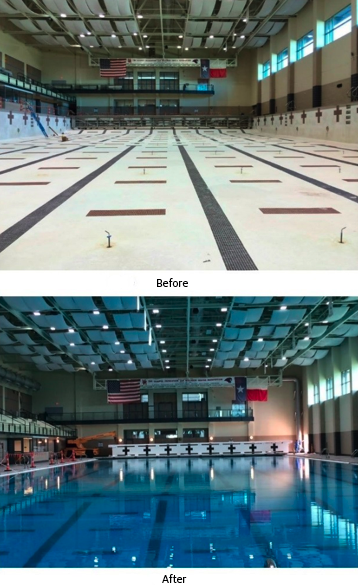 A million gallons of water and an over-due renovation has made the University of Houston swimming facilities up to date and more efficient.
"We have an indoor competition pool, indoor spa and dry sauna, and then outdoors we have an outdoor leisure pool, which features a slide and rock features, and then an outdoor spa as well," said Rachel O'Mara, assistant director of aquatics for the UH Campus Recreation and Wellness Center. "We've needed the renovations for a few years now."
The updates were made over a period of 8 months and included new piping, chemical and filtration systems for the indoor and outdoor facilities.
"In the competition pool alone we have 1.3 million gallons of water that circulates daily," O'Mara said. "We're able to maintain the same water and be more sustainable. It also filters to a smaller particle size, so we're able to keep the water cleaner."
The facility has been home away from home for UH and Olympic divers. UH Alum Yulia Pakhalina won two silver medals in the 2008 Olympics for three meter springboard diving and synchronized diving, the latter won with fellow alum Anastasia Pozdniakova. O'Mara said they're hoping to engage the elite athlete and the regular student alike.
"We'll have an inflatable obstacle course, logs for log rolling," she said. "It's really cool and some different ways that people can get involved in the pool space without just lap swimming."
Other activities include Aqua Zumba, paddle board yoga. The updated space also has splashes of Cougar Red everywhere from the new starting blocks to the timing equipment to the new video boards.
"We are proud and want people to know they are at the University of Houston," O'Mara said. "We're hoping that through these renovations we can engage everybody in some way to participate in the space."
This content is in service of our education mission and is sponsored by the University of Houston. It is not a product of our news team.