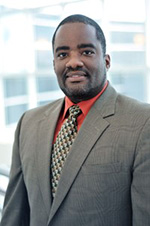 We investigate brief couple and relationships interventions and the impact on family functioning and stability, economic stability,mobility andstress and health outcomes in low income and low income minority populations," he said.
Daire is a professor in the psychological, health and learning science department and also associate dean for research in the college of education. He says at the core of family fragmentation and unwed childbearing issues are challenges which, unchecked, increase stress within the family systems and contribute to adverse outcomes, such as high school drop outs, drug use and juvenile justice system.
"You've got family stress, then economic stress, and then this same population overrepresented by health disparities of which stress is a major factor," he said. "We're calling it the 'Triadic model,' that intersection of family stressors, economic and minority stress and health disparities and stress."
The lab will partner with the Harris County department of health and human services among others.
"At first people think, oh couples, families. It's like soft, mushy, gushy stuff. We want you to be happy at home, but this is really a significant public health issue," Daire said.
The Couple Marriage and Family Research Lab is part of what's happening at the University of Houston. I'm Marisa Ramirez.
This content is in service of our education mission and is sponsored by the University of Houston. It is not a product of our news team.