It takes more than words to know a language and more than language to know a culture. Future health professionals Mai Ahn Vu and Ana Ruiz participate in Spanish for the Health Professions, a class not only to learn terminology, but also a cultural understanding of the Hispanic community.
"Being a health professional, you develop a bond with the patient and being able to communicate in the same language makes them more comfortable with you," Vu said. "It's all about trust, right?"
In addition to the science courses required in their double majors, both Vu and Ruiz participate in volunteer opportunities such as health fairs and in internships. They're also active in the student organization Alpha Eta Alpha that has weekly community-service based events—all centered on health—for the more than 150 students who are members. The events complement their studies and their Spanish.
"Whenever I go to all these different health fairs, I adapt what I learn in the classroom with whatever I'm exposed to," Ruiz said. "When we were learning about hypertension and blood sugar levels, the terminology I used with the patient was not the same that I used in class. We use all these professional medical terms, but when I was explaining to the patient 'this is your level' they didn't understand."
Taught by Instructional Assistant Professor Maria E. Perez, the Spanish for the Health Professions classes convey cultural aspects of medicine in Spanish-speaking countries as well as terminology. UH also offers Spanish for Global Professions, such as business, education, social services, communication, marketing and advertisement.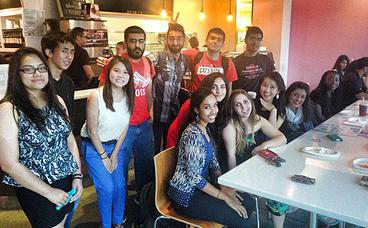 "These two experiences that we have—learning in the classroom and learning in the community— is really unique," Vu said. "You have to know where your clients are coming from so that you explain things to them in a way that will make them feel engaged."
Language and culture are part of what's happening at the University of Houston. I'm Marisa Ramirez.
This content is in service of our education mission and is sponsored by the University of Houston. It is not a product of our news team.