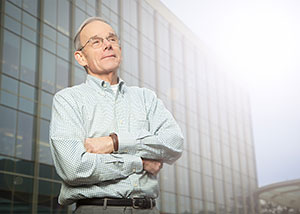 You're not supposed to look directly into the sun, but that's what Professor Ed Hungerford did. He's the M.D. Anderson Chair of Physics at the University of Houston College of Natural Sciences and Mathematics. He's also the UH lead of an international collaboration called 'Borexino' charged with looking deep into the sun for something tiny, subatomic tiny:
"We would like to confirm the model which describes the primary source of energy that the sun provides," he said. "The idea is to try to measure what's really going on inside the sun, so we are looking for subatomic particles called 'neutrinos.'"
Solar neutrinos were thought to be part of the nuclear reaction in the sun, but you can't see neutrinos; you can only detect where they've been. The tool to do that is a large spherical tank filled with liquid and built more than two miles under the Gran Sasso Mountain in Italy.
"On the inside, this is covered with quite a large number of photo-multiplier tubes which sense light, so you wait for something to flash, and the amount of energy that comes from that determines that you saw the particles that you're looking for," Hungerford said.
The finding that confirmed solar neutrinos was selected as one of the top ten physics breakthroughs for 2014 by Physics World magazine, the Institute of Physics member publication. Also on that list: The Rosetta Mission that landed a spacecraft on a comet.
"We were surprised that it worked," he said. "It was a major accomplishment, but the fact that the answer we get is what is actually calculated is convincing proof that we really understand the energy sun's source."
The Borexino Collaboration is part of what's happening at the University of Houston. I'm Marisa Ramirez.
This content is in service of our education mission and is sponsored by the University of Houston. It is not a product of our news team.