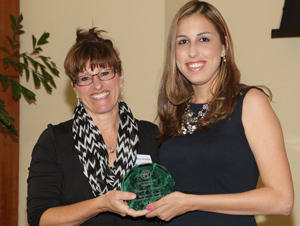 Kroger Company's Debbie Veselka congratulates UHCOP student Bianca Romero on winning the 2014-15 UH APhA-ASP Patient Counseling Competition.
"A lot of people see their doctor a couple of times a year, but they come to the pharmacy every month," said Bianca Romero, doctoral student in the College of Pharmacy. Romero like all her student colleagues is well versed in drug therapies and interactions, but the college ensures she's just as comfortable as patient counselor.
"They have lots and lots of knowledge, but if they go out and talk in medical terms to a patient, the patient isn't going to be able to understand how to get the best benefit out of the medication," said Dr. Lynn Simpson, clinical associate professor at the college. "What we teach them is to be empathetic with the patient, put themselves in that patient's shoes. We teach them how to talk to that patient and reassure them you're a team to better cope with that disease."
Patient counseling is taught through in-class and community activities, internships and during residencies. There also is a national Patient Counseling Competition sponsored by the American Pharmacists Association. Romero was a finalist.
"Most people are drawn to the profession because they really want to help people," Simpson said. "We build on that already innate want and improve on their skills to make sure they're better patient educators."
"We want to comfort the patient and make sure they know we're on their side. We're pushing for them," Romero said.
The College of Pharmacy is part of what's happening at the University of Houston. I'm Marisa Ramirez.
This content is in service of our education mission and is sponsored by the University of Houston. It is not a product of our news team.