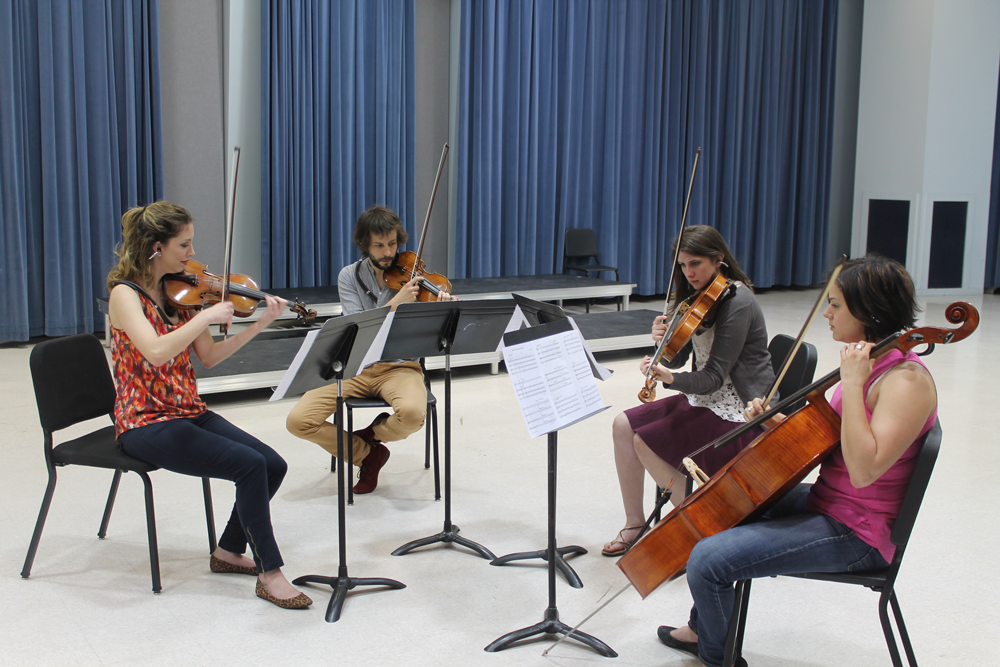 "Every student has to perform Mozart, Beethoven, Bach," said University of Houston Moores School of Music doctoral student Ingrid Hunter. "If you get selected to be in Aura, you get the opportunity to play these other unique pieces, which really expands your musical horizon."
Aura is the Moores School of Music's contemporary ensemble, where students play pieces influenced by pop music, classical or global music. Aura is dedicated to the performance of contemporary chamber music with an emphasis on works that represent the trends and styles of the last two decades. For classical musicians and composers, these contemporary pieces are a necessary part of their evolution.
Aura performed the Houston premier of an innovative composition titled "Quartet for Heart and Breath" by Richard Reed Parry of the band Arcade Fire. Parry also is a composer of classical chamber music. As the title suggests, the driving elements of the piece are unique to the musicians.
"He came up with this idea of listening to your own heartbeat and your own breathing through the use of a stethoscope and having the players play to that tempo," said Rob Smith, associate professor of composition and director of Aura. "Each player will have a slightly different tempo, which in turn creates this fascinating texture."
The plucking sounds conveyed their heartbeat; the bow their breath.
"There's the focus challenge of listening to your heartbeat and your breath without becoming too aware of it," Hunter said. "It's very Zen, almost like a meditation process."
Experiences like this challenge audiences to redefine what music is.
"I think that's one of the biggest messages of this contemporary music idea," she said. "You can make almost anything music if you organize it and there's a purpose to it."
Aura Contemporary Ensemble is part of what's happening at the University of Houston. I'm Marisa Ramirez
This content is in service of our education mission and is sponsored by the University of Houston. It is not a product of our news team.