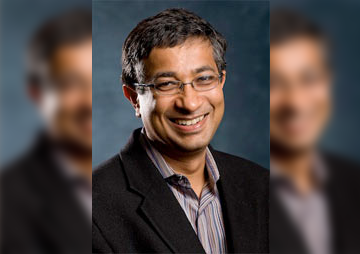 Professor Ramanan Krishnamoorti
There are countless moving parts in the upstream oil and gas sector — securing, drilling, producing, monetizing. In such a complex process, many things can and do go wrong. The Graduate Certificate in Upstream Energy Safety is a year-long program for industry professionals that integrates health, safety and the environment at every stage, over the long term.
"We've created a program that begins to illuminate a light on the history of near-misses and accidents that define the industry," said Professor Ramanan Krishnamoorti, director of the UH Energy Initiative. "We integrate case studies where health, safety and environment have been compromised and have led to significant challenges."
Krishnamoorti says UH listened to its Energy Advisory Board — a gathering of industry leaders that provides strategic guidance to the University — which indicated this was an industry challenge.
"For example, nobody's ever done anything like gone into the Gulf of Mexico and drilled extra-deep wells in 10,000 feet of water depth. So how do you evaluate the risk, put a system together that will ensure the health of everybody is protected, and do it in a safe way, so that neither people nor environment is damaged," he said.
It's a practice already done in the automobile, aerospace and space exploration industries.
The year-long multidisciplinary program is taught by industry experts for industry professionals and is designed to fill gaps in industry training, serve government regulators and provide widespread application for industry professionals.
"As we've sought material to teach in this program, the large operators have said, 'here's our entire manual. You can take the entire manual and use it. Can we send our experts over to you to help out to teach?' It's been an absolute revelation as to how they've embraced this program from the industry side," he said.
And there's nothing else like it for the upstream industry. Krishnamoorti says it's unique to Houston and UH.
"We expect there will be a global audience, but our expertise comes from the industry here," he said. "This is Houston-centric."
This content is in service of our education mission and is sponsored by the University of Houston. It is not a product of our news team.