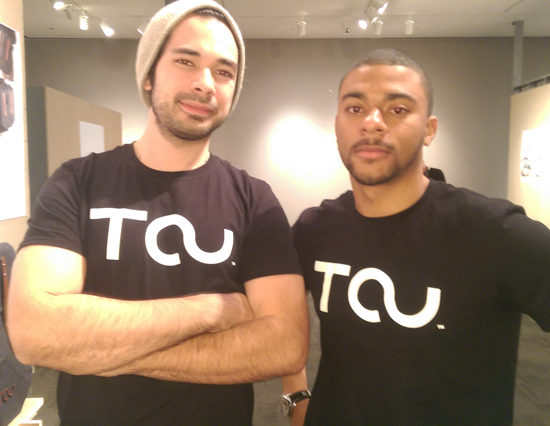 Ten Industrial Design students from the UH Gerald D. Hines College of Architecture spent a semester developing and branding bicycles specifically for Houston riders.
"I'm an avid cyclist. What we're trying to do is get more people to do that," said Brian Chiu, senior Industrial Design student and team member of the project "TAU." "One world, two wheels."
The UH Industrial Design program is award-winning, ranked in the top 20 globally according, to Red Dot Design Ranking 2014. The rigorous program grooms students to become innovative designers.
The class assignment asked the team to create a business, research, design and construct the bikes.
"Really catering to urban environment and the urban commuter was something we wanted to address from the beginning," said teammate Carlyle Yarbrough. "We addressed such needs as security storage, lighting and visibility in a line of three bikes that cater to each riding style and preference that your urban commuter would want."
The group designed a road bike, an all-purpose bike and a hybrid bicycle to take cyclist anywhere from Memorial to Montrose.
"The TAU Mission, for example, is modeled this off of a hybrid bike, which is a cross between a mountain bike and a road bike," Chiu said. "We wanted to make something that gave the impression of speed and versatility. We gave it an aggressive, motorcycle-type feel, more burly tires, because this bike is meant to tackle any type of terrain."
The assignment also was meant to be a lesson in diplomacy, teamwork and entrepreneurship. They chose "TAU" as their company name.
"Our slogan is urban movement," Yarbrough explained. "We work progressively toward the development of innovation, solving some of these complex issues within an urban context."
The TAU theory expresses an organism in its environment.
"We wanted to give people a vehicle to better appreciate Houston," Chiu added. "We wanted to use the aesthetics that best represent Houston, meet the needs of Houston and give them a catalyst of embracing the city and being a small organism in the greater whole."
Industrial Design is part of what's happening at the University of Houston. I'm Marisa Ramirez.
This content is in service of our education mission and is sponsored by the University of Houston. It is not a product of our news team.