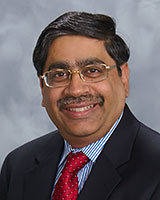 Professor Rakesh Verma
According to the most recent State of Cybercrime Survey, The U.S. Director of National Intelligence ranks cybercrime as the nation's top security threat—and the cyber bad guys outnumber the good guys.
"The Department of Labor has estimated that we need about 300,000 professionals now, and we are producing very few," said University of Houston Computer Science professor Rakesh Verma. "So, the numbers are in the thousands at best, where the need is in the hundreds of thousands."
Verma directs the CyberCorps Scholarship for Service, a National Science Foundation-funded effort to attract graduate students for cybersecurity training and research.
"The problem is really growing very rapidly because of so many devices coming to the internet and getting connected," he said. "There is a lack of professionals and a lack of trained people who can train the people."
Curriculum will include cybersecurity training, IT support and resilience, research projects and internships in government agencies. Students also will participate in Cyber Wars – simulations of cyber-attacks on online systems. Students will play the good guys and the bad guys.
"They're given a machine for an hour and they're told that these are the services that need to keep running on the machine, they have to keep them connected to the internet, have to maintain a basic set of services and secure the machine," Verma said. "Then, in the next hour, opposing groups will be attacking the machine trying to find vulnerabilities."
One aspect that makes the UH program unique is its emphasis on security and privacy analytics. Verma says one reviewer of the program called this aspect fresh and rare.
"By this we mean data analytics applied to security and privacy challenges," he said. "Our department has people in data mining and machine learning so we are building our strength."
Interest also is high in an upcoming course on security and privacy analytics, which will be open to graduate students and senior undergraduate students. Verma also plans workshops.
He says only about 60 universities in the country offer CyberCorps Scholarship for Service projects, which can narrow the choices for students pursuing cyber security studies.
"We think it will be very positive for the University of Houston," he said.
CyberCorps is part of what's happening at the University of Houston. I'm Marisa Ramirez.
This content is in service of our education mission and is sponsored by the University of Houston. It is not a product of our news team.