Jane Y. McCallum
December 30, 1877– August 14, 1957
"Somehow I felt too thankful to be jubilant," Jane Y. McCallum wrote in her diary on June 28, 1919. "We have a great responsibility and I pray God we may meet it squarely and successfully."
The responsibility McCallum felt so keenly was the right to vote—a right American women finally won in 1920 with the ratification of the Nineteenth Amendment. As a leader of Texas women's fight for suffrage, McCallum always met her civic responsibilities "squarely and successfully."
Born in 1877 in LaVernia, Texas, McCallum moved to Austin in 1903 when her husband became school superintendent. In 1915, she was elected president of the Austin Woman Suffrage Association. As she campaigned for women's voting rights, McCallum faced heated criticism from her political opponents. Undaunted, she gave speeches, wrote newspaper columns, and lobbied legislators—all while running a busy, active household.
After women's right to vote had been secured, McCallum took on new responsibilities. She helped the Texas League of Women Voters fight for education, health care, and child labor laws. She was executive secretary of the Women's Joint Legislative Council, a powerful group sometimes known as the "Petticoat Lobby." She also served as Texas Secretary of State under two different governors.
McCallum died in 1957. She is remembered today for her lifelong dedication to giving women a voice in the political process, and making sure that voice was heard.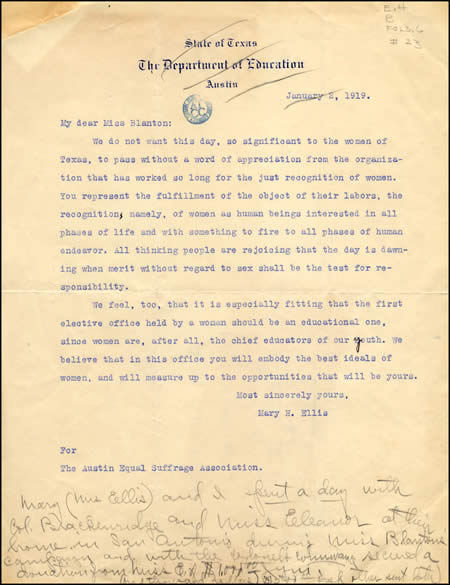 Typewritten letter from Mary Heard Ellis to Miss Blanton, January 2, 1919
[FP E.4 B #23 (Folder 6)/Austin Public Library]
Selected Bibliography
Duncan, Roberta S. "McCallum, Jane Legette Yelvington." Handbook of Texas Online (http://www.tshaonline.org/handbook/online/articles/fmc07), accessed November 5, 2012.
Humphrey, Janet G. A Texas Suffragist: Diaries and Writings of Jane Y. McCallum. Austin: Temple, 1988.
Jane Y. McCallum Papers, Austin History Center, Austin Public Library, Austin, Texas.
"Jane McCallum and the Suffrage Movement." Austin History Center: Austin Treasures-Online Exhibits (http://www.austinlibrary.com/ahc/suffrage/), accessed November 12, 2012.
McArthur, Judith N. Creating the New Woman: the Rise of Southern Women's Progressive Culture in Texas, 1893-1918. Champaign: University of Illinois Press, 1998.
McArthur, Judith N. and Harold L. Smith, Eds. Minnie Fisher Cunningham: A Suffragist's Life in Politics. New York: Oxford University Press, 2003.
McArthur, Judith N. and Harold L. Smith, Eds. Texas Through Women's Eyes: The Twentieth-Century Experience. Austin: University of Texas Press, 2010.
Winegarten, Ruthe. Texas Women: A Pictorial History, from Indians to Astronauts. Austin: Eakin Press, 1986.
Winegarten, Ruthe and Judith N. McArthur, consulting editors. Citizens at Last: The Woman Suffrage Movement in Texas. Introductory essay by A. Elizabeth Taylor, with foreword by Anne Firor Scott. Austin: Ellen C. Temple, 1987.