"Just the words 'bone marrow' sounds scary to people," said Niyati Vaidya, a University of Houston student majoring in health promotion. She and colleague Harry Nguyen, however, were brave. They were among a group of students who started "Be The Match—University of Houston" to raise awareness of the critical need for bone marrow donors.
"It's mostly for people with leukemias, lymphomas and blood cancers," Vaidya said. "For a lot of people, that's their only life-saving option because 70 percent of people don't find a match within their families."
Theirs was the first "Be The Match" group established on a Houston campus. A chapter of the Gulf Coast Regional Blood Center, the UH effort partners with existing UH student organizations to leverage their reach. Their annual goal was to register 200 students to the Be The Match list. Their very first drive registered 450.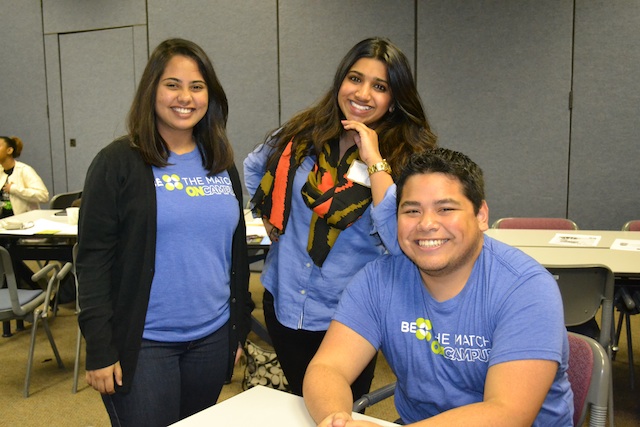 "To join the registry is just a quick medical evaluation form, contact information and four cheek swabs," Nguyen said. "We had 12 people come up as matches and donors here at UH."
Their efforts inspired six other Houston colleges to start "Be The Match" groups. In an effort to inspire their young leaders, the UH group called a leadership summit. And that's when the national organization took note.
"These students (from other colleges) are the leaders of their campuses," Vaidya said. "Our actions to get us all together to talk and share ideas really caught the attention of the national team. They decided this was really something they should implement in other cities as well."

Niyati and Harry both are majoring in health promotion and have become interns with the Gulf Coast Regional Blood Center. Internships are supposed to be about learning. Their internship also has been about teaching.
"When we started 'Be The Match' it was just us and Lamar—the only two schools. Now there's a lot more and then still expanding," said Nguyen, who hopes to remain active with Be The Match beyond his college years.
"If every single UH student is on the registry that means 40,000 people could have a second chance at life," said Vaidya.
This content is in service of our education mission and is sponsored by the University of Houston. It is not a product of our news team.