PLÁCIDO BENAVIDES
(1810­–1837)
Plácido Benavides is called the "Paul Revere of Texas" for his role in the Texas Revolution.
Born in 1810 in Mexico, Benavides moved to Texas in 1828. He found work in Victoria with the family of empresario Martín De León. Benavides married De León's daughter Agustina and became the city's alcalde.
By 1835, Benavides had joined the Texians in opposing Mexican dictator Santa Anna. As head of Victoria's militia, Benavides stood up to Mexican soldiers trying to arrest suspected rebels. This defiance made him a rebel too.
Benavides helped take Goliad and San Antonio for the Texians. Soon after, he was among the men ambushed by the Mexican army near San Patricio. In the ensuing battle, he was dispatched to Goliad to alert others of the Mexican army's approach.
Benavides' ride to Goliad has been compared to Paul Revere's famous ride in the American Revolution, as both men spread news of oncoming enemy assault.
It was on this ride that Benavides learned that Texas had declared independence. Though he opposed Santa Anna, Benavides was fighting for Texas as part of a federalist Mexico, not for Texas independence. His relations with the Texas rebels soon soured. After the Texian victory in 1836, Benavides and the De León family left Victoria for exile in New Orleans.
Benavides never returned to Texas. He died in 1837.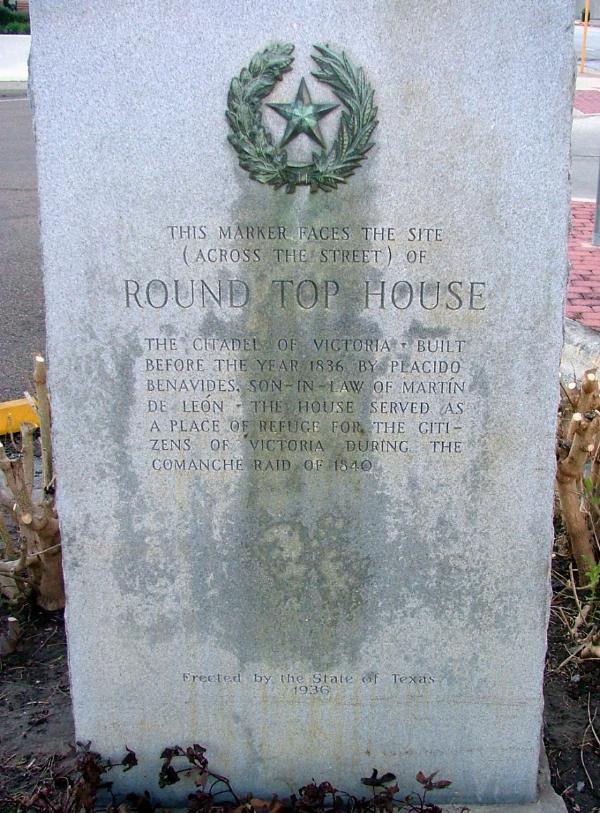 This historical marker stands in Victoria at the corner of South Main and Juan Linn, formerly the site of Plácido Benavides's fortified home, the Round Top House. Photo by Glenn Austerfield.
For more about Plácido Benavides
Martín De León, Benavides's father-in-law and the founder of Victoria, died in 1833 before the Texas Revolution began. His grave in Evergreen Cemetery in Victoria has become a memorial to the city's founding family. While Benavides never returned to Texas, other members of the exiled De León family eventually did, and reminders of the De Leóns abound in the city.
There is a historical marker at the former site of Plácido Benavides's fortified home, the Round Top House, at what is now the corner of South Main and Juan Linn. This home served as an essential defensive structure during the Comanche raid of 1840.
Benavides moved to Victoria to work for Fernando De León, son of empresario Martín De León. In 1831, he married Agustina De León, Martín's daughter, and he first became embroiled in the Texas Revolution by protecting his brother-in-law José María Carvajal, also of the De León family. For more on this fascinating group of early Texas settlers, see this genealogical site on the De León colony.
In 2011, the city of Victoria dedicated a plaque honoring Benavides at City Hall. The plaque reads:
The City of Victoria, Texas evolved from Villa de Nuestra Senora de Guadalupe de Jesus Victoria, founded by Martin de Leon in 1824 and laid out according to centuries-old Spanish colonial law. There were only two successful empresario colonies in Mexican Texas, those of Martin de Leon and Stephen F. Austin. The principal officer in Spanish and Mexican villas was the alcalde whose duties included those of present-day mayor, sheriff, and local judge. These responsibilities were exercised first by Don Martin de Leon, followed by Plácido Benavides whose home, known as the Round Top House, served as a fort, school, and refuge during the Indian raids. During Benavides' leadership, a serious confrontation with Centralist troops attempting to arrest his brother-in-law, Jose Maria de Jesus Caravajal, was peacefully avoided. This event occurred on the Plaza de Mercado where this monument is displayed. Benavides responded to the June 1835 arrest order with the statement that he was "a constitutional officer" and not at all amenable to the (centralist) military of Santa Anna. Benavides' service during the struggle to restore the Constitution of 1824 was extraordinary. Ironically, however, he died during exile in Opelousas, Louisiana in 1837.
Selected Bibliography
Alter, Judy. Martín De León: Tejano Empresario. Abilene: State House Press, 2007.
Crimm, Ana Carolina Castillo. De León: A Tejano Family History. Austin: University of Texas Press, 2004.
Hardin, Stephen. "Plácido Benavides: Fighting Texas Federalist." In Tejano Leadership in Mexican and Revolutionary Texas, edited by Jesús F. de la Teja. College Station: Texas A&M University Press, 2010.
Hardin, Stephen. Texian Iliad: A Military History of the Texas Revolution. Austin: University of Texas Press, 1994.
Lack, Paul. The Texas Revolutionary Experience: A Political and Social History, 1835–1836. College Station: Texas A&M University Press, 1992.
Platenburg, Gheni. "Plaque dedication ceremony meaningful to family, community." Victoria Advocate.com. Accessed August 4, 2013.