The Learning Through Discovery program at the University of Houston is a five-year plan to provide research skills and training to students, as well as opportunities to practice those.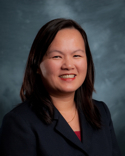 "What we're trying to do with the Learning Through Discovery initiative is promote a culture of research among students," said Dr. Veronique Tran, who directs the program. "In 2008, the university embarked on a campus-wide planning effort to develop a program that would improve student learning in some way, and so what came about is a focus on undergraduate research."
Learning Through Discovery folds research into the curriculum and expands research opportunities on campus and in the community. Partnerships with healthcare entities, education groups, government agencies and corporate sectors give students valuable experiences.
One group of students is assisting researchers with the Diabetes and Metabolism Institute from Methodist Hospital.
"I'm taking blood sugar, blood pressure, height and weight and educating people about what they can do to reduce the prevalence of diabetes in the community," said one undergraduate who is pursuing pre-med studies at UH. "People usually start this when they start clinicals in nursing or medical school, so we're able to start sooner and have a little idea about what we'll be doing later on school."
Tran estimates that, since its inception, more than 15,000 students have been impacted by Learning Through Discovery, the university's Quality Enhancement Plan (QEP).
"They're able to really use their creativity to design and develop education programs for families for children, and actually implement and improve them," she said. "We are preparing students for the workforce, ensuring they are competitive as they leave the university with skills they'll need to contribute in fields that perhaps don't even exist now. It's this action-oriented research experience that they're not able to get elsewhere."
Learning through Discovery is part of what's happening at the University of Houston. I'm Marisa Ramirez.
This content is in service of our education mission and is sponsored by the University of Houston. It is not a product of our news team.