A timid student searches her notes where a phrase is highlighted. The other students in her small group wait patiently as her soft voice asks a question of the facilitator.
"Rolling on the floor laughing?" she asks, slowly saying each word. Her face is puzzled when she looks up from her notebook.
She is one of many international students from the UH Language and Cultural Center (LCC) gathered for the weekly Conversation Club, which pairs them with UH students who are native English speakers. In this club, they don't just want to practice their English; they want practice how Americans speak.
The facilitator nods his head at the question as he writes the letters "ROTFL" on a small white board.
"I don't know if I've ever typed that and then rolled on the floor and laughed," he explains. "People exaggerate a lot and a lot of slang words and the acronyms that people use are exaggerated as well."
LCC students come from more than 40 countries to study at UH. Wanting to perform at a high academic level, they come to the LCC for its intensive English language program to better their proficiency for researching and writing research papers. But they also want to understand American life and speech on the street.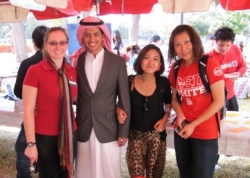 "Today the students are talking about slang and language learning, so they're bringing any questions they have about words they've heard or things they don't understand," said Anna Lauzon Hood, program manager for curriculum and special projects.
"Like 'what's up dawg.' Maybe I didn't understand, but it made me feel bad," says one leather jacketed student. "'What's up dawg?' I'm not dog."
On this day, Tier One Scholars, high achieving UH undergraduates who have ambitions of teaching English abroad, help the LCC students maneuver through tricky English phrases.
"I know it's a challenge," another facilitator offers. "You don't just want to learn the language, you want to learn how Americans say the words and vocabulary."
A student from Central America questions a phrase Americans use to say 'goodbye.'
"It's 'see ya,'" she says. "But 'silla' in my language is chair! Silla tomorrow?"
Conversation Club participants also take field trips around Houston and Texas to help them on their way to American language and culture proficiency. The experiences of Conversation Club benefit the LCC students and the Tier One Scholars.
"It's a really great opportunity to make friends with people they otherwise wouldn't and for both groups to expand their horizons," Lauzon Hood said.
This content is in service of our education mission and is sponsored by the University of Houston. It is not a product of our news team.