We are never lacking in scary movies when Halloween comes around. It seems we like to watch the restless ghost and angry zombie chase and slash the unsuspecting innocent. But what are we really afraid of?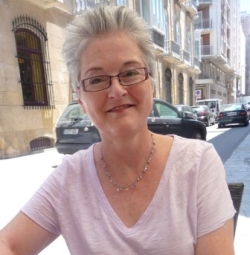 "We're all faced with mortality and death, and lots of horror deals with death and sometimesviolent death—something that we fear," said Cynthia Freeland, professor and chair of the department of philosophy at the University of Houston.
The author of "The Naked and the Undead: Evil and the Appeal of Horror" says watching horror movies lets us explore the thought of our own mortality, get some intellectual control over it and stand up to the scary monster.
"What we're most interested in in horror is exploring the nature of evil, and the monster is a figure of great evil," Freeland said. "It's fascinating and perplexing and, in some ways, alluring because we all may be tempted to sin, so to speak, or violate norms. It's an imaginative way to explore doing that."
Freeland says many characters in horror flicks are seductive and charming, like the elegant vampire, Dracula, but some help us come to terms with moral issues, like Dr. Frankenstein.
"He violates norms of nature and then has to suffer and be punished for doing that," she said. "There's lots of recent movies about certain kinds of plagues visiting the earth because of scientists exploring something. They've gone too far."
Freeland, whose favorite scary movie is Scanners, sees this trend in horror movies, such as Alien, Carrie and the slasher flicks.
"It's a very natural kind of human need to explore these very dark issues, both about death and about evil," she said. "Fiction and film are ways in which we do explore sometimes very deep issues."
Cynthia Freeland is part of what's happening at the University of Houston.
This content is in service of our education mission and is sponsored by the University of Houston. It is not a product of our news team.