Cardiovascular disorders remain a major challenge in the United States. Nearly five million Americans have congestive heart failure, with thousands of new cases diagnosed each year.
"We and others are developing novel treatments that can help these millions of patients," said Ravi Birla, associate professor of biomedical engineering at the University of Houston. He calls his lab "the artificial heart lab."
"Our objective in the lab is to be able to bioengineer artificial, three-dimensional cardiovascular tissue constructs, which include heart muscle, blood vessels, valves, pumps, ventricles all the way down to complete bio-artificial hearts."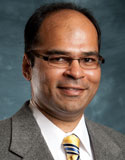 It sounds like science fiction: artificial hearts grown in a lab to meet patient demand. Birla says as we live longer, and as list of patients waiting for donor hearts and other organs grows, this idea may become a viable option.
"We hypothesize that cells are just one part of the equation," he said. "You need to be able to replicate whatever your heart tissue looks like. You need to be able to build that in the lab and then give that to the patient."
Birla, whose lab already has bioengineered heart tissue, says there are few researchers in this new area of study. By his own admission, placing a bioengineered human heart into a patient is decades away. But it is the future.
"I think it's even more important now, as our average age is increasing, that we are investing in our future and our healthcare needs as a society," he said. "This research give us a competitive advantage and distinguishes UH from anybody else working in this space."
Ravi Birla is part of what's happening at the University of Houston. I'm Marisa Ramirez.
This content is in service of our education mission and is sponsored by the University of Houston. It is not a product of our news team.