What is a map? An aide to guide you from here to there. A measurement of distance between two spots. For a team of University of Houston's graphic communication students, a map tells a community's story, specifically the Third Ward.
"It's a way in which the community can talk a little bit about their environment, their history, their desires, their needs and what they think is important," said Cheryl Beckett, associate professor at the UH School of Art. "Our campus is just blocks away from Project Row Houses."
The UH team collaborated with Project Row Houses in the Third Ward for a project called, "Welcome Center: Mapping Community Stories." The installation in Project Row Houses' main administrative building features several maps, kiosks and a welcome wall that help tell the story of the Third Ward and invite participation from visitors.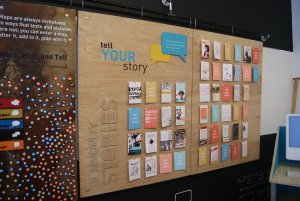 "This material will provide a better understanding of the people, places and history that shaped the neighborhood and will be useful for Project Row Houses as it continues to map this historic part of Houston," Beckett said.
Part of the project includes a wall that invites visitors to take index cards and write stories about significant people and events, then hang them on the wall next to other insightful stories.
"There's a lot of interesting stories of people like Lightning Sam Hopkins, who I didn't realize was from here," commented student Osama Ashawa. "Or of Covington House or Roland Hayes."
A wall of walkable maps encourages visitors to roll out hand drawn maps of the Third Ward and mark places that are of significance to them, like the El Dorado and the Flower Man's house. The adjacent magnetized wall encourages visitors to mark with magnets places of wisdom, love and anger.
"We wanted to come up with an aesthetic that would also speak for the community combining different elements, natural elements in addition to modern day elements," said Louis Pitre. .
All map designations, writings and images are scanned and included in a website as a permanent research tool on the Third Ward.
"I learned that it's very rich in the culture and history and it's more than just a route we take to school," he said.
Graphic communications are part of what's happening at the University of Houston. I'm Marisa Ramirez.
Telling the stories of the University of Houston, this UH Moment is brought to you by KUHF, listener supported radio from the University of Houston.
This content is in service of our education mission and is sponsored by the University of Houston. It is not a product of our news team.