"Typically, when we think of India, we tend to think immediately of the rich culture, the gods and goddesses, imagery, food, colors," said Anjali Kanajia, assistant director of the new University of Houston India Studies Program.
We think we know India, but a new area of study broadens our view.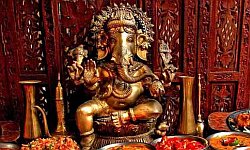 "There is so much more," she offered. "From a cultural perspective, it's the birthplace of four major religions. Looking at its population, 18 percent of the world's population, one in every six persons, is Indian."
Located in the new department of comparative cultural studies, India Studies combines anthropology, sociology, religious studies, language and history. Professor Lois Zamora is the department chair.
"We're interdisciplinary. We're cross-cultural and comparative," she said. "We hope this minor will compliment a number of majors. Business, certainly, but also economics, political science and literature as well."
India is introduced through courses such as South Asian Literature and Film, Emergent Asian Economies, Hindi and Gods and Goddesses.
"We want a number of disciplinary perspectives, so we have students taking a course in the English department, taking a course in sociology, taking another course in political science, so that it's not just the history of India or it's not just the ways businesses in India operate today; it's a combination of these things," Zamora said.
An opportunity, as well, for diverse students to embrace diversity.
"The immediate benefit is a knowledge of India and Indian culture worldwide. The larger benefit is that our students feel comfortable as citizens of the world."
India Studies are part of what's happening at the University of Houston. I'm Marisa Ramirez.
Telling the stories of the University of Houston, this UH Moment is brought to you by KUHF, listener supported radio from the University of Houston.
This content is in service of our education mission and is sponsored by the University of Houston. It is not a product of our news team.