A walk through the university's community garden—green tomatoes hanging on the vine, squash blossoms promising a bumper crop—is one example of the green philosophy at the University of Houston.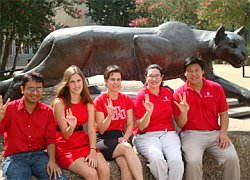 "There are tomatoes despite the heat," one vegetable lover remarked. "These are peppers and look at this amazing row of corn, hay protecting from the heat."
Coupled with reusable to-go containers in the tray-less cafeterias and countless academic research projects, sustainability is not new, but the philosophy is evolving.
"We started to look outside of ourselves at who we could partner with in industry that will unite what we're doing in an operational level with what's going on in the classrooms and research labs at UH," said Emily Messa, vice president of university services. "We became aware of Green Mountain Energy's competitive process for the Big Texas Sun Club as it relates to having a solar array on campus and thought this would be a great opportunity."
Impressed with the array of green-thinking (and actions) on campus, Green Mountain Energy, a retail provider of clean energy, awarded UH a $140,000 gift to fund a solar array atop the Central Utility Plant. The 2,500 square foot array of 88 large photovoltaic panels will produce up to 23,615 kilowatt hours of clean energy annually.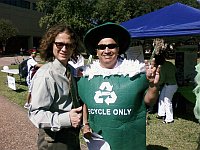 "We will be able to take the office inside the central utility plant completely off the electric grid," Messa said.
The solar array should be completed by fall 2011. The $2,000 expected annual savings from the solar panels will be reinvested in students in the form of an internship. The undergraduate student selected for the Green Mountain Energy Company Solar Internship Program will host an annual event around the theme of clean, solar, green energy, and will learn how to collect data from the solar array. The data may be used in academic research projects in various colleges.
"It's wonderful at UH to be so successful in so many arenas, not only as a Tier One university what's going on with student success and access, but now in sustainability," she said. "We want to be a leader in everything at the UH."
Solar energy is part of what's happening at the university of Houston. I'm Marisa Ramirez.
Telling the stories of the University of Houston, this UH Moment is brought to you by KUHF, listener supported radio from the University of Houston.
This content is in service of our education mission and is sponsored by the University of Houston. It is not a product of our news team.