The name of Professor Paul Chu is synonymous with superconductivity. A pioneer in the field, Chu and his research team changed the game of materials science when they discovered superconductivity at temperatures above 77 degrees Kelvin, the boiling point of liquid nitrogen. Now Chu and other super-Texans are enshrined in the museum exhibit "Texans Head to Foot" at the Institute of Texan Cultures in San Antonio.
"Whether you can tell the whole story is not clear, but I feel it's a good thing to remind people that in Texas there are different people doing different things," Chu said. "I feel Texan, except I don't have the Texan's accent. I could not get rid of my Chinese accent; therefore no other accent could get in."
Chu is the executive director of the Texas Center for Superconductivity at the University of Houston (TcSUH), a large, multidisciplinary center for superconductivity and advanced materials research.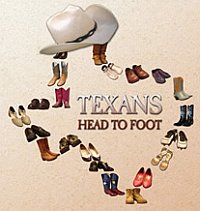 The exhibit, which runs through May, features hats and shoes from other prominent Texans, such as Dallas Cowboys' quarterback Roger Staubach, Gov. Ann Richards and Tejano singer, Selena. Chu loaned the exhibit a pair of white Nike sneakers and his lab coat.
"I gave the lab coat because I don't wear a hat," he chuckled. "I have hair."
Superconducting materials are now being used to make devices for energy generation, transmission and storage, as well as magnets for MRIs. But Chu hopes his humble sneakers and lab coat inspire more than science.
"I would like to see if people can get the feeling that this little guy can do something, why not. I can do it too," he said.
Telling the stories of the University of Houston, this UH Moment is brought to you by KUHF, listener supported radio from the University of Houston.
This content is in service of our education mission and is sponsored by the University of Houston. It is not a product of our news team.