"We make molecules. We cook them."
There is a lot cooking in the lab of Prof. Rigoberto Advincula. The materials scientist and his research team have created a sensor that could result in hand-held devices that can quickly detect food contaminants, explosives on the battlefield or airport security risks.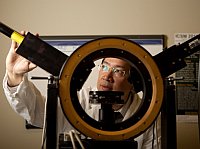 "We want devices that are reliable and that workers can easily handle," Advincula said. "Most of the testing that has to be done by sending samples to the lab could take hours or sometimes days to get a reliable result. This usually is very expensive and involves cumbersome equipment, so we want to have substitutes for that by devising small portable devices that are as reliable as those big machines."
Advincula's cooked molecules could result in sensors for small, hand-held scanning devices that could immediately allow a supermarket worker to detect salmonella in food products or help a soldier determine if landmines litter an area. Ultimately, the technology would save time, money and lives.
"We design molecules that actually surround the chemicals in a lock-and-key fashion," he said. "You use a key, insert it in a lock and open the door. But what we're doing is creating the lock around the key. It's called molecular imprinting," he said.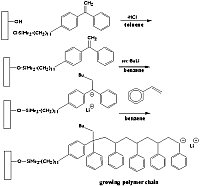 Funded in part by the National Science Foundation, Advincula's innovative work has been published in three journals: Macromolecules, Applied Materials & Interfaces, and Biosensors & Bioelectronics — all some of the most prestigious and highly cited in this area of study.
Rigoberto Advincula is part of what's happening at the University of Houston. I'm Marisa Ramirez.
Telling the stories of the University of Houston, this UH Moment is brought to you by KUHF, listener supported radio from the University of Houston.
This content is in service of our education mission and is sponsored by the University of Houston. It is not a product of our news team.