A newly discovered scrapbook at the UH Hospitality Industry Archives contained nearly 100 vintage menus from U.S. hotels, steamboats and restaurants from the 1850s and '60s. Each has been digitally preserved by the UH Digital Library.
"This provides an interesting look at dining out historically," said Michele Reilly, digital projects director. "You also can get an idea of the social structure by looking at these. You can also look at what they were eating and making and how they use every part of the animal. You can also see how some things don't change. Mac-n-cheese is still mac-n-cheese."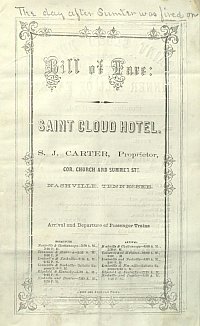 The collection belonged to an hotelier from the 1920s whose friends and acquaintances were pleased to accommodate his request for menus. There are nearly 100 items in the collection from menus from the Mississippi to the east coast.
The menus were printed daily, some with very ornate designs, featuring the day's breakfast, dinner, supper and tea offerings. Each menu included notes that waiters had wine cards and pencils, and included information on train and steamboat schedules. And dining etiquette was strictly practiced as many menus reminded.
"Men had gentleman's lounges where they ate alone. They had to alert the staff if they would be eating with a guest," Reilly said. "There were lounges for women and children, and servants weren't allowed to sit with their family. You can also see a difference between the north and the south."
The daily offerings speak to the foods available at that time and in that part of the country, with such dishes as 'saddle of south down mutton' and mashed turnips. On one menu from the St. Cloud Hotel in Nashville there is handwritten note at the top reading."The day after Fort Sumter was fired on."
"We don't know who wrote it, maybe a guest or a waiter. It's an intriguing look. I think everybody would be interested in the collection. That's why we put them up," she said.
Historical collections and archives are part of what's happening at the University of Houston. I'm Marisa Ramirez.
Telling the stories of the University of Houston, this UH Moment is brought to you by KUHF, listener supported radio from the University of Houston.
This content is in service of our education mission and is sponsored by the University of Houston. It is not a product of our news team.