University of Houston biology professor
Steven Pennings
is interested in small things—spiders, insects, plant stems and other members of plant communities in
salt marshes
. Pennings and
his research team
will examine wetlands and marshes along the gulf coast to assess environmental impact following the oil spill.
"The oil spill is a national disaster, but at the same time it provides an opportunity to learn new things about how natural systems work," he said. "We can study the coastal waters of the gulf and the coastal wetlands and see how they change in response to the presence of oil and learn new things about how those systems functions."
With a grant from the National Science Foundation, Pennings and his team will spend the fall collecting insects and plant material in twenty-two coastal sites. These sites already were being examined for other environmental studies, but now will be used to see how the food web has changed since the oil spill. They'll compare those areas where oil has penetrated to those areas that received no oil.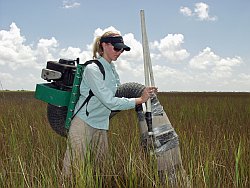 One of Pennings's research team wielding the D-VAC in the field
"Once we get to these sites, we run a machine called a D-VAC, which is a giant vacuum cleaner powered by a lawn mower engine that one of the students wears on her back like a backpack," Pennings said. "There's a hose that's about a foot in diameter. We move it through the grasses to collect all the insects, spiders and plant material in a mesh bag."
Pennings anticipates spending a year on the project. He says oil, energy and technology are necessary, but should be considered with care.
"A lot of work we do is focused on technology—new energy sources, how to make energy more efficient or more available, but of course all the technologies have environmental implications. It's good to be thinking broadly about energy, but we also should be thinking about the environmental implications, policy approaches, not just about technology."
Steve Pennings is part of what's happening at the University of Houston. I'm Marisa Ramirez.
Telling the stories of the University of Houston, this UH Moment is brought to you by KUHF, listener supported radio from the University of Houston.
This content is in service of our education mission and is sponsored by the University of Houston. It is not a product of our news team.