The unique three-summer program at the UH School of Theatre and Dance covers such topics as acting, technical theater and design, playwriting and theater management. Sixteen students — all middle school or high school theater teachers — began the program three years ago and all will graduate this summer.
"it's really a program that's geared them to get them through in three years, to make it as cost efficient for them as we can so that they're actually learning," said Steven Wallace, director of the UH School of Theatre and Dance.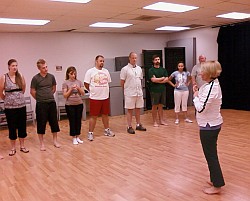 The teachers have projects and research to pursue during the year, and learn from renowned faculty and Houston stage professionals, like the Alley Theatre's Todd Waite. The experts provide first-hand experiences that these teachers can take back to their students. After completing the three summers of coursework, they will earn a Master of Arts in Theater.
"Part of the benefit is being in Houston," said Wallace. "It's a major metropolis that allows us to really access so many different components of the entertainment industry."
As part of the program, participants will travel to New York, London and other cities to view productions and participate in workshops with other stage professionals.
"Then they can go back to their students when they're going through a textbook talk about a particular approach because they learned it first hand, from the source."
The Summer Theatre Arts Master's is part of what's happening at the University of Houston. I'm Marisa Ramirez.
Telling the stories of the University of Houston, this UH Moment is brought to you by KUHF, listener supported radio from the University of Houston.
This content is in service of our education mission and is sponsored by the University of Houston. It is not a product of our news team.