"For our organization, the concern is not about winning," says Lee Arnold, a junior and member of the University of Houston Forensic Society. "We're an organization that is bent on reaching out and touching individuals' lives on a daily basis."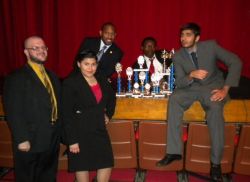 Director Mike Fain (left) and the UH Forensic Society
Arnold and his teammates are national champions. Led by Director of Forensics Mike Fain, the group has won 11 national championships since 2002. Individually, they have won more, but winning is not what's most important to them. It's using words to reach out, mentor and guide elementary, middle and high school students in the art form.
"The detriment of a society or organization is taking those gifts or those moments and not giving back to those who are less fortunate," Arnold said.
In addition to their own competitions, every week members of the organization volunteer at area schools' forensic competitions or host or judge competitions. The impact of their words is felt in the thousands of children who have found inspiration, motivation or liberation through the craft of public speaking, debate or poetry or prose interpretation.
Freshman Maria Alfaro-Fernanda once was mentored by the UH champs. Now she is a top 10 competitor.
"It empowered me," she said. "I'm doing this for thousands of people who cannot do it or who want to, but are unable to. It completely changed my life."
The group is pleased with the number of trophies and awards they've earned, but is more pleased with a different number: 9,000. From March of 2009 to March of 2010, they estimate that is the number of children and young people they've reached through volunteer efforts both on and off campus throughout the year and during the summer. It is an attitude reflective of their champion status.
"We should be worried about how we impact others to improve upon their lives, which ultimately improves upon our own," Arnold said.
The UH Forensic Society is part of what's happening at the University of Houston. I'm Marisa Ramirez.
Telling the stories of the University of Houston, this UH Moment is brought to you by KUHF, listener supported radio from the University of Houston.
This content is in service of our education mission and is sponsored by the University of Houston. It is not a product of our news team.