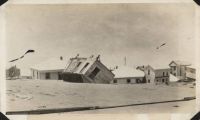 "The
digital library
extends the walls of our physical library. We're no longer brick and mortar. We're now moving beyond that and getting out to the greater community," said Michele Reilly, digital projects librarian for the UH M.D. Anderson library.
The new Digital Library extends the walls of the library as far as the World Wide Web. The resource provides images (primary sources) and information on the university's and Houston's past.
"What you'll find right now is a collection of images about the 1915 Galveston Hurricane, the 1947 Texas city Disaster, historic photographs of Houston and the Houston Communities," she said. "You'll find a collection of newspaper clippings of the suffragette movement here in Houston by one of the leading suffragettes."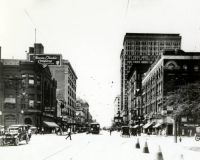 The scope of the Digital Library spans from the late 1800s to the present and eventually will include historic videos and audio files, along with information about exhibits at other UH libraries. Reilly adds while global visitors will get a lot of information, visitors from the fourth largest city in the country will get a little something else—a real sense of place.
"And this kind of grabs people and says, 'oh, year, we are that way,'" Reilly said. "We are a community that's been here a long time and we have history, and that history spills over—and it's very exciting."
The Digital Library is part of what's happening at the University of Houston. I'm Marisa Ramirez.
Telling the stories of the University of Houston, this UH Moment is brought to you by KUHF, listener supported radio from the University of Houston.
This content is in service of our education mission and is sponsored by the University of Houston. It is not a product of our news team.