Bone loss is a concern for post-menopausal women, spinal cord patients—astronauts on extended missions. Scientists know bone mineral loss occurs under these conditions, but understanding the process in order to develop prevention therapies has been challenging. Associate professor Mark Clarke is part of the UH Department of Health and Human Performance and worked with NASA to understand this.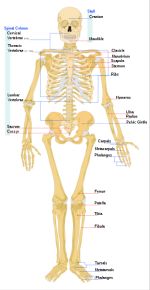 "NASA's interest in bone loss resulted in funding for a project where we hoped to develop a tissue culture model of human bone, study how bone forms and, more importantly, how bone is lost when you remove mechanical loads, just like during space flight," Clarke said.
Being in a microgravity environment causes astronauts' bodies to lose more bone mineral than they can replace, which makes them vulnerable to fractures and breaks. Even when they return to Earth, the bone loss continues as their bodies slowly begin the process of replacing the bone mineral content.
The innovative result of Clarke's research was something more than a 3-D model of bone formation. The result was real human bone.
"We made a structure that has no synthetic components," he said. "It's all made by the two cell types that we start with. What you end up with is a piece of material that is identical to newly formed human trabecular bone, including its mineral components, its histology and its growth factor content."
In a previous NASA-funded study, Clarke studied how skin patches can collect sweat for analysis of biomarkers of bone loss, like calcium.
This most recent research is another example of studies that are market-ready. The start-up company, OsteoSphere, is examining ways the research can be used commercially.
"UH has now licensed the technology to OsteoSphere, which is looking at ways to commercialize the technology in a clinical setting, including culturing an individual's own bone for subsequent transplantation back into the patient, developing other products for use in orthopedic reconstruction or using the technology as a screening tool for pharmaceutical development," Clarke said.
Bone research is part of what's happening at the University of Houston. I'm Marisa Ramirez.
Telling the stories of the University of Houston, this UH Moment is brought to you by KUHF, listener supported radio from the University of Houston.
This content is in service of our education mission and is sponsored by the University of Houston. It is not a product of our news team.