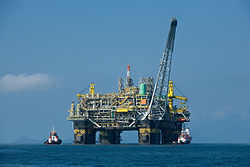 "Within two hour's drive from the center of Houston, you have about $25 billion worth of work just in the next 10 years. We are in a prime location—big time," said
Professor Neil Eldin
, who leads the
University of Houston Construction Management program
in the
College of Technology
, a program creating leaders who will build the future.
"Construction" means more than hammers and nails. The bachelor and master's programs produce field engineers, superintendents, construction managers, contract administrators, estimators, inspectors, those who hire and those who plan. For the fourth largest city in the nation, it means future employees for entities concern with building the future.
"All the Mobiles and the Chevrons, Texaco and all the big oil companies and contractors—these are the top guns in the construction industry. You have the owners here and we are in their backyard," Eldin said.
On its way to becoming its own department, the Construction Management program works with its own advisory board, industry leaders who provide insight to the needs of the workplace. Undergraduates perform 400 hours of internships with area companies and contractors. Additionally, the program offers traditional and online graduate programs, along with an online professional development construction management certificate to meet the needs of working professionals.
"Construction" also means building for future energy needs. Eldin says plans are in the works for an innovative program to address the process and industrial side of the industry.
"The power plants and the oil and gas facilities and refineries and off shore structures are areas that construction management programs nationwide have overlooked. We are going to be the first such program in the nation," Eldin said. That program should be available by next fall.
The construction management program is part of what's happening at the University of Houston. I'm Marisa Ramirez.
Telling the stories of the University of Houston, this UH Moment is brought to you by KUHF, listener supported radio from the University of Houston.
This content is in service of our education mission and is sponsored by the University of Houston. It is not a product of our news team.