A street name. An old building. A sports team. Each can be a marker in our personal history as it connects us to our city's history.

"This is a city of opportunity. Of everything else, that's what defines us as different from many other cities," said Professor Joseph Pratt, interim dean of the College of Liberal Arts and Social Sciences and editor of Houston History Magazine. "It's particularly an opportunity for working people, an opportunity to make something for your kids. Part of that with the big refineries, the ship channel and industrial base."
The magazine is part of the Center for Public History. Printed three times a year, Houston History Magazine is a labor of love for historian Pratt, presenting an engaging and useful past for readers in words and images. In its pages are compelling images and tales of the history of sports in Houston, the history of hurricanes, the history of the Houston Livestock Show and Rodeo, with guest writers like Larry Dierker and Larry McMurtry.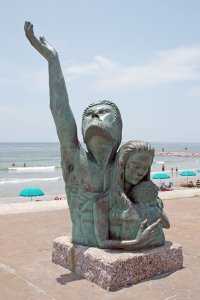 "And that's the kind of history we're trying to do. History with a practical edge," Pratt said. "Historical preservation is a good example. We can show people why they should value the old buildings by showing them the old buildings that are no longer around. I'm a committed teacher of history and this is an effort to teach to a broader classroom."
The Houston History Magazine is part of what's happening at the University of Houston. I'm Marisa Ramirez.
Telling the stories of the University of Houston, this UH Moment is brought to you by KUHF, listener supported radio from the University of Houston.
Note: If you are interested in subscribing to Houston History Magazine, you can find more information here.
This content is in service of our education mission and is sponsored by the University of Houston. It is not a product of our news team.