Nathan Jarvis is busy. The senior hospitality major prepares for the lunch crowd at the student-run Barron's Restaurant at the UH Conrad N. Hilton College of Hotel and Restaurant Management. A self-proclaimed "foodie," Nathan's professional goals link culinary with engineering.
"I love inventions. Long term, I'm going to get a doctorate in food engineering, and that's in the realm of developing new equipment and food processes for manufacturers and for restaurants," Jarvis said.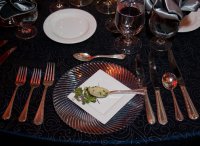 Nathan is fluent in the language of business management, learning from hospitality industry leaders here and abroad who partner with the college. Through the college, students like Nathan participate in events such as Gourmet Night, a student-created-and-managed, black-tie affair that features a multi-course meal. It is the college's annual fundraiser. In addition, students connect to unique internships around the world in such areas as restaurants, resorts, hotels and cruises. They also engage in special educational experiences with entities such as CESSA, a top culinary program in Mexico.
"It's a way to connect the students with the industry," Jarvis said. "It's beneficial to the students because you're more prepared to go into the industry, and its beneficial for the industry because they get students who know what the industry is like and are ready to start working."
The College of Hotel and Restaurant Management is part of what's happening at the University of Houston. I'm Marisa Ramirez.
Telling the stories of the University of Houston, this UH Moment is brought to you by KUHF, listener supported radio from the University of Houston.
This content is in service of our education mission and is sponsored by the University of Houston. It is not a product of our news team.