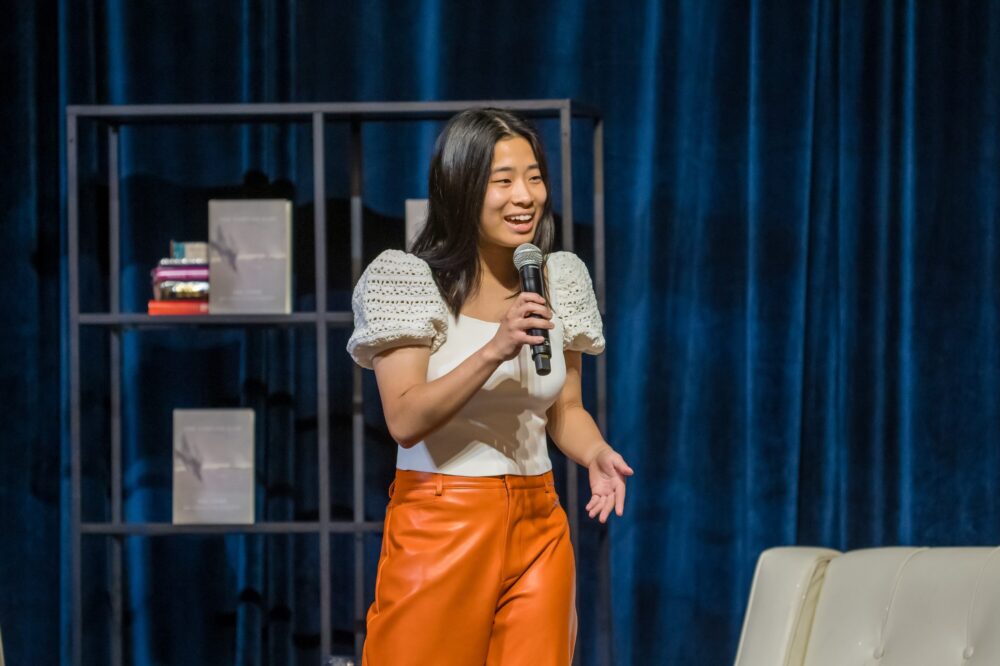 The Voices and Verses poetry series features profiles and poems of Houston poets in celebration of National Poetry Month
In this sound portrait, we meet Ariana Lee, 2022-2023 Houston Youth Poet Laureate.
The native Houstonian talks about discovering poetry during the pandemic, writing a poem for the 2022 World Series Champions Houston Astros, and why poetry is important to her. She reads her poem "Color Study: Yellow."
Ariana Lee was appointed Houston's 7th Youth Poet Laureate in November 2022. She has opened for U.S. Poet Laureate Ada Limón and performed for the NCAA Men's Final Four Legacy Project presented by Degree. Her work has been recognized by the National YoungArts Foundation and is published in The Offing, Defunkt Magazine, and elsewhere. She is a member of the Meta-Four Houston Youth Slam Poetry Team, sponsored by Writers in the Schools.

Color Study: Yellow
The fever is rare and spread by mosquitoes;
it takes only a bite for the body to bow
to a color. 黄used to be a color reserved
for the 皇帝. Only the emperor
could be fitted in yellow—how fitting for a son
of the heavens to don sun-kissed fabric. Solar
flares can be harmless. When the fever flares, it
can cause fatal conditions of the heart. O heart,
I tell it, do not cower. But given the option
to wear sunscreen and long sleeves, I bite.
I fit myself in this armor. My skin burns hot,
feverish to not become the shade of fever.
How I flock to shade. How I flee, flee,
flea is just another type of pestilence
whose incessant flutters my flight
from the light makes a poor mockery
of. A swarm of mosquitoes would never
suffer for beauty. To think of all those mouths,
the devastation behind each kiss. But even
without a lover marking my body—
my face burns.

This poem is reprinted with permission of the author.
Music used: Dies Irie (excerpt) and Lullaby for my Favorite Insomniac (excerpt) by Kenji Bunch from Ahn Trio: Lullaby For My Favorite Insomniac; Fern (excerpt) by Zoe Keating from One Cello x 16: Natoma; Phillies vs. Astros World Series Game 6 MLB Highlights
To learn more about this series, go here.