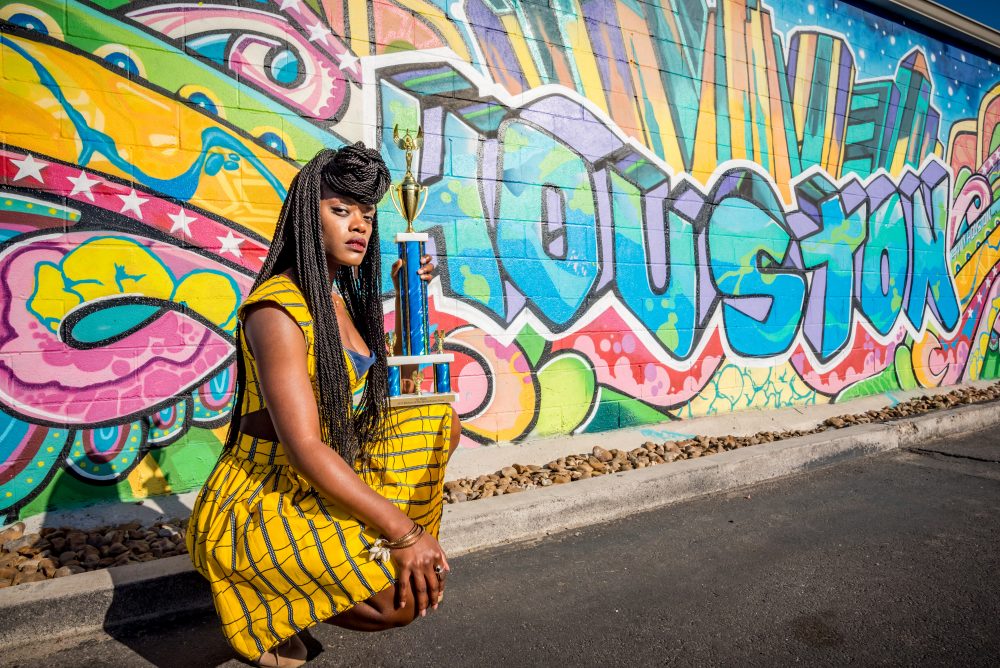 The Voices and Verses poetry series features profiles and poems of Houston poets in celebration of National Poetry Month.
In this sound portrait, we meet poet Ebony Stewart.
She talks about what poetry means to her, life as an artist during the pandemic, and the women who inspire her. She performs her poem, "Sway."
Ebony Stewart is an international touring poet, performance artist, playwright, and a Women of the World Poetry Slam Champion. She is the author of Love Letters to Balled Fists and Home.Girl.Hood. Her work has been featured in For Harriet, AfroPunk, Teen Vogue, and The Texas Observer. In 2018, Stewart was the only poet to perform at the Seattle Pride Festival before 200,000 people. She is also a sexual health activist and educator, who is pursuing a license as a clinician therapist.
Sway
Dear Black girl,
You mispronounced wonder
You hand-me-down strange fruit
You bending-tree-splintered-and-spray rooted life
You stately-pour-mansion mouth with the stars falling out
You grip, grab, and growl
You hold on, stuck black
You surviving scorched temple
Sway.
You bob-head, battle rap body, and graffiti tongue
causing cacophonies
You harmony and hip-hop booty
Legs
Be standing
Be flyy
Be gathered razor smile and raging
fists
bulging in back pockets for the long walk home
Be ready
Be two to the body and one to the face
Be kicking, screaming
Be
calling all your pieces back
Be love
Be remembering how
You be Black woman
So
been know how
Since mama taught you how to make a braid
and break bread with other Amazons
Gurl,
sway.
You balmy coil beauty making raucous with your hair
You knotted brown black
You dark meat
You volcanic laugh
Say, I own myself
Say, I validate me and birth gods
Raised yo mama and yo mama's mama
ain't nothing but a mammy
taught you everything you know good
O anyhow
Gospel
O hallelujah
Praise
Black girl... sway.
Even when your bones hurt
When they make wilt out of your name
Try and blow out your flame
You be bigger
Show 'em you got that ether
Make 'em burn slow
You be inferno,
be progressive
Be fan, clap, and snap
This here is magic – you'd have to be a Black girl to understand
Show 'em how it all got started
How the bricks got laid
That this is what happens when the ink spills
When your ancestors dance your worth awake.
Dear Black girl,
Sway.
Swoon.
WOOSH!
This poem is reprinted with permission of the author.
Music used: Sun Will Set, Don't Worry, Optimist, Forte and Zinc by Zoë Keating from One Cello x 16: Natoma, Into the Trees and Snowmelt.
To learn more about this series, go here.