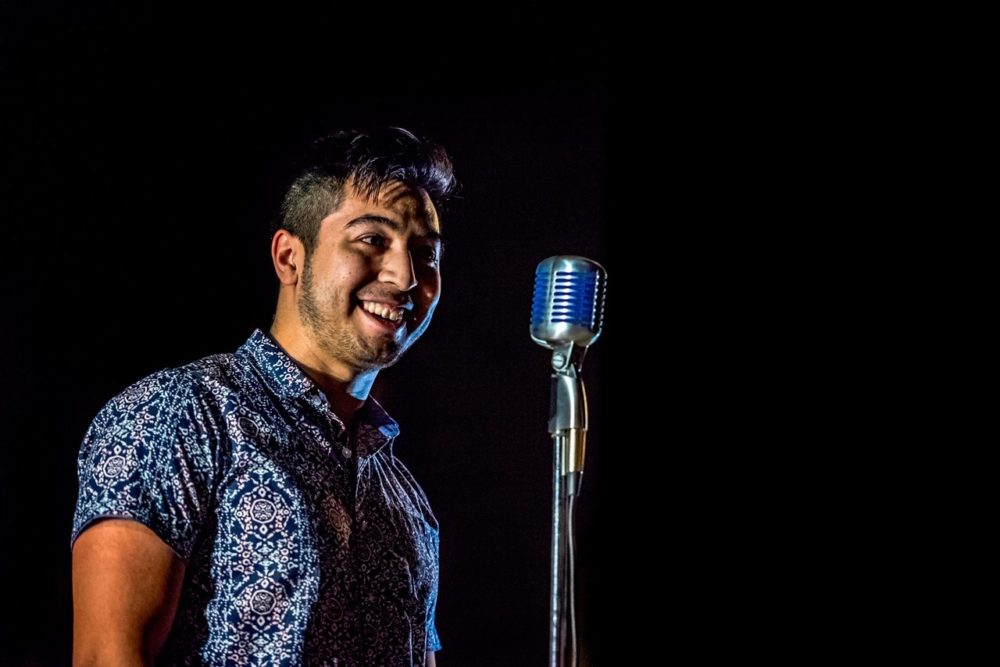 In this sound portrait, we meet poet Zachary Caballero. He describes poetry as the art of paying attention and talks about how poems can help us feel less alone, as well as why he loves to cook. He reads his poem, "Cooking Poems on Stoves."
Zachary Caballero is a Mexican-American writer and personal injury attorney. In 2016, HuffPost Latino Voices featured him among 10 Spoken Word Poets Who Speak To Diverse Latino Experiences. His work has been showcased by We are Mitú, Button Poetry, Write About Now, FreezeRay Press and the Austin International Poetry Festival. Caballero has competed four times at the National Poetry Slam and was crowned the 2016 Grand Slam Poetry Champion at Write About Now. While attending law school, he taught poetry and spoken word performance in public schools across Houston with Writers in the Schools.
Cooking Poems on Stoves
I cross the crosswalk when the sun crosses my heart, kisses my face
with the same heat I've been trying to recreate with the words in my kitchen.
I open my mouth like my hands and turn nothing into something.
What I mean is, I cook with love and don't we all have an appetite?
Ask my guests, they scrape the plate. Nothing left but gratitude for the chef.
I'm trying to feed you with whatever I got.
Like my ancestors before me, you can find me by the fire.
I'm cooking poems on stoves, I simmer the similes like onions with sugar,
I want this story to caramelize naturally.
I tell stories in your stomach
I tell stories which are really just recipes
for how to create joy when I feel empty inside
As you listen to me explain how to properly cook
bone-in chicken in a cast-iron skillet,
know the truth is my favorite flavor.
If I misspeak, it only means I changed the recipe mid-sentence.
Can I tell you a secret?
I need love like olive oil.
The first thing my mother and grandmother do
when I am home is ask if I am hungry.
Of course, I say yes.
Of course, my eyes are bigger than my stomach.
So I open my stomach like a sentence I wish to re-write.
I don't always know what I wish to change, my appetite or the recipe.
When I can't stand the cold emptiness of indecision,
I stand up in the heat of the kitchen.
I open the fridge like a dictionary.
Language, my ultimate box of mystery ingredients.
Every plate is a page I am not afraid to share
I don't always have a lot, but I got enough to make it through breakfast.
I'm hungry, but sometimes, I leave my voice in the oven.
I buy fresh fruit because I want to learn how to be useful before I too begin to rot.
I use my knife to carve meaning clean from the bone.
I plate the truth with purpose.
If you're still hungry, there are plenty of seconds.
This poem is reprinted with permission of the author.
Music used: Fancy Stops and Goes (excerpt), Improvisation #3 (excerpt) and Midnight on the Water / Bonaparte's Retreat (excerpt) by Mark O'Connor from Midnight on the Water and Red (excerpt) by Joseph V. Williams II from Texas Guitar Quartet: Red
To learn more about this series, go here.