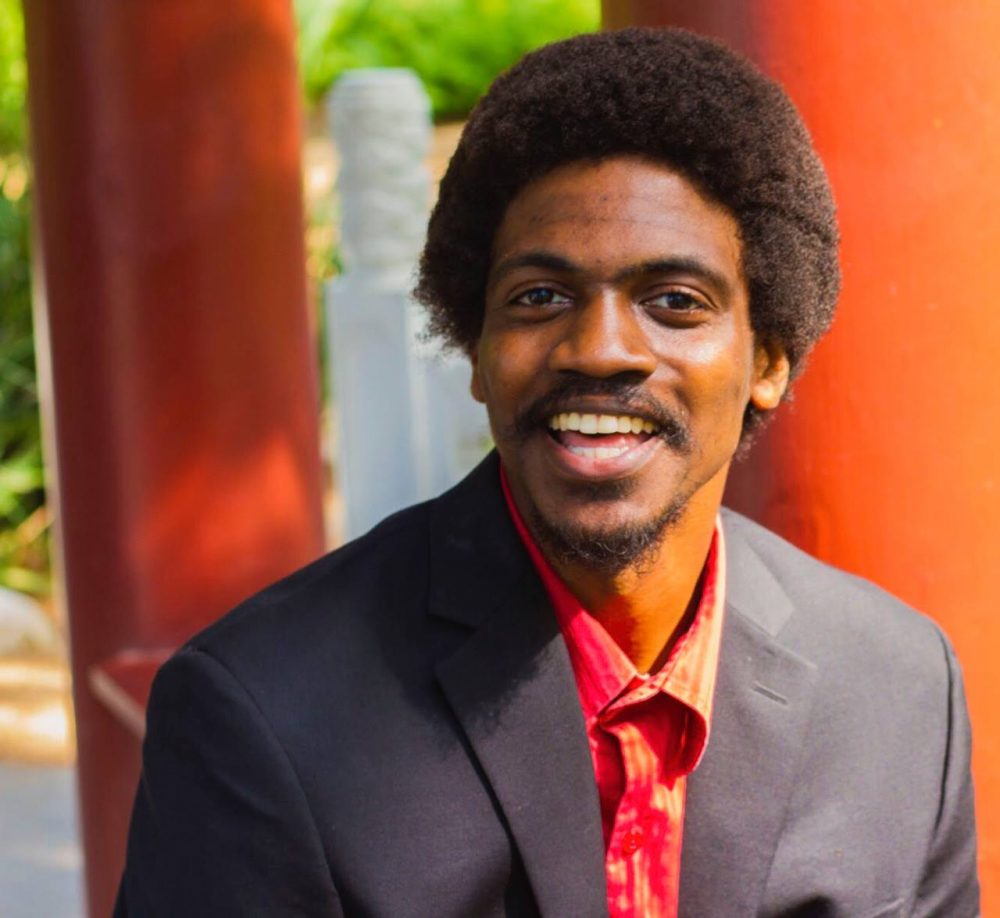 In this sound portrait, we meet poet Jeremy Eugene. He describes his turning point as a young poet in high school, and he talks about the ways in which his experiences of growing up in both Trinidad and the United States influence him. He reads his poem, "Enough."
Jeremy Eugene is a poet, educator, and candidate for an M.A. in English at Texas Southern University. He is of Trinidadian heritage; grew up in East Brunswick, New Jersey; and currently resides in Houston. As a youth poet, he was a member of the 2012 Meta-Four Houston slam team, which competed at the international festival, Brave New Voices. He is also a two-time member of the nationally-acclaimed Houston VIP Poetry Slam team, and his work has appeared in The Griot: The Journal of African American Studies. He hopes to inspire and motivate social change with all of his work.
Enough
I plan on moving out of the US
So I've been thinking of my favorite place in the country
It's not Disneyland not shiny Times Square
Just a small white building in Houston
Go there if you ever feel like you have nothing left
My friend will share the gift he gave himself when he too was ready to leave
felt tired, hungry, had nothing
But himself and a spray can
He wrote "you are enough"
on an abandoned building.
The community
Built it into what's now a shelter
He is alive
breathing "You are enough" back into a country of closed mouth suffering
A public affirmation was all it took.
Words do amazing things
Until you run out of them again
So easy to, in a country of no official languages,
But every American is fluent in consumption
I say I plan to move out
and they respond, "I get it. You're tired, you're hungry,
you've had enough"
I want to tell them yes, but also, not exactly
American English does not have words to describe leaving
but staying at the same time
Here, enough gets used up like a nap, a hot meal
In Trinidad "enough" is a constant
How else do you survive being conquered by every European nation?
When Trinis talk is plenty people don't know what we say
Because our mouth has been taken by England, by Spain, by France, then by us again
In French if you need replenishment
Vous dites: J'ai faim
I have hunger
Consumption is a possession you hold until the lacking is too heavy
In Spanish, if you need rest, tu dices: estoy cansado
I'm tired
Any gap between who you are and what you are disappears completely
What I mean is: to have, to be enough, in the white man's land
is to chase an undefined number
But Laventille knows enough
Port of Spain knows enough
Trinidad is so enough
Our chief export is ourselves
Anywhere you go you can find us thriving
Tell us what you need and we will help you fill it
To pinpoint the place where enough means the most,
Spin a globe and stop your finger
at the smallest target, instead of the largest superpower
In Trinidad there is no being or having
We say: I hungry
I tired
We don't become our battles
Our self and state of being sit side by side,
Like a neighbor we can wave at over the fence
One whose name we forget on occasion
I find it's time to take my enough for me
I enough. My enough:
A sorrel shandy to sip, put down, pick up again
This poem is reprinted with permission of the author.
Music used: Raga Raja (excerpt) by Project Trio from When Will Then Be Now; Escape Artist (excerpt) by Zoë Keating from Into the Trees; John Steinbeck (excerpt) by Bill Frisell from Brooklyn Rider: The Brooklyn Rider Almanac
To learn more about this series, go here.