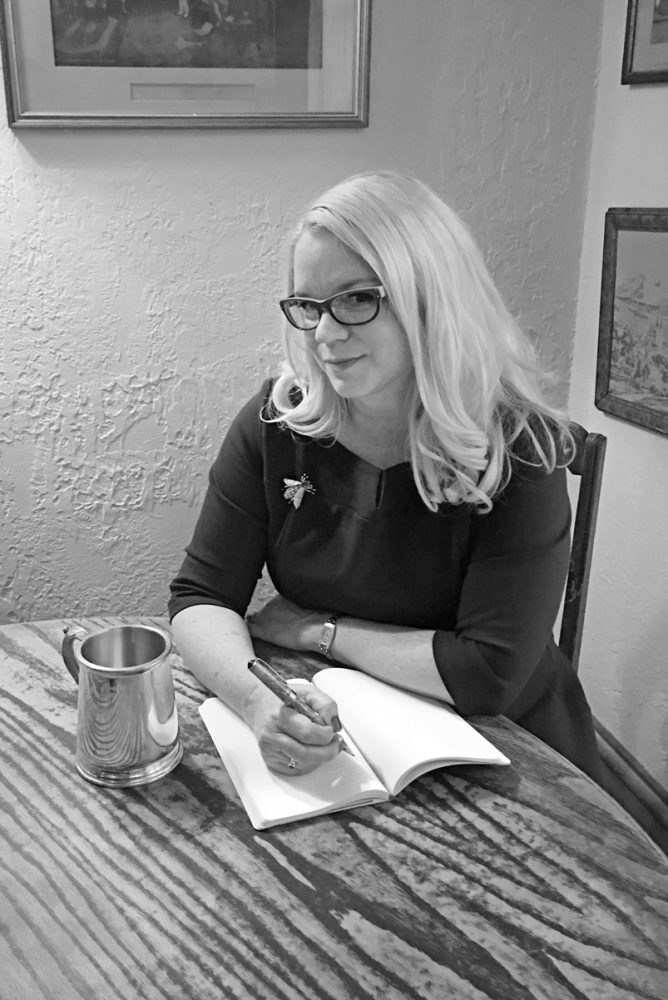 In this sound portrait, we meet poet Tria Wood. The native Texan describes her early love of writing, as well as an interest in taxidermy, and she reads her poem, "Godzilla Walks into a Bar."
Tria Wood lives in Houston, where she helps children and teachers become creative writers through the Writers in the Schools program. Her poetry, fiction, and essays have appeared in Painted Bride Quarterly, Sugar House Review, Rattle, Mom Egg Review, Literary Mama, and other publications.
Godzilla Walks into a Bar
Godzilla walks into a bar.
He's much smaller
than you'd expect, really.
Scaly, dark, and haggard.
He's been sleeping it off
for centuries, all that rage,
dust and ashes washed out
of the cracks in his suit
by the surging Pacific.
He's graceful, surprisingly
so. Swanlike, even.
He will not look at you.
When he sits, his forearms pool
on the bar like crayons in the sun.
His belly is a flat tire
collapsing into his crotch
and whatever may be there
is hidden. He'll order
something tropical, all rum
and fruit and fire,
incinerate the paper umbrella
with a tiny burst
that could have been a laugh.
He swivels his head
to watch it burn, left,
right, then pokes its charred
skeleton down into the tumbler
and gives it a feeble stir
with stubbed fingers. One dark claw
etches delicate architecture
into the condensation on the glass.
And when he turns, half-smiles
at you, at last you understand
love at first sight.
This poem first appeared in Painted Bride Quarterly: Issue 95, 2017 and is reprinted with permission by the author.
Music used: The Cricket Dance, Caprice No. 1 in A Major (excerpt), and Improvisation #1 (excerpt) by Mark O'Connor from Midnight on the Water; The Gardens of Sampson & Beasley (excerpt) by Pink Martini from Hang on Little Tomato.
To learn more about this series, go here.