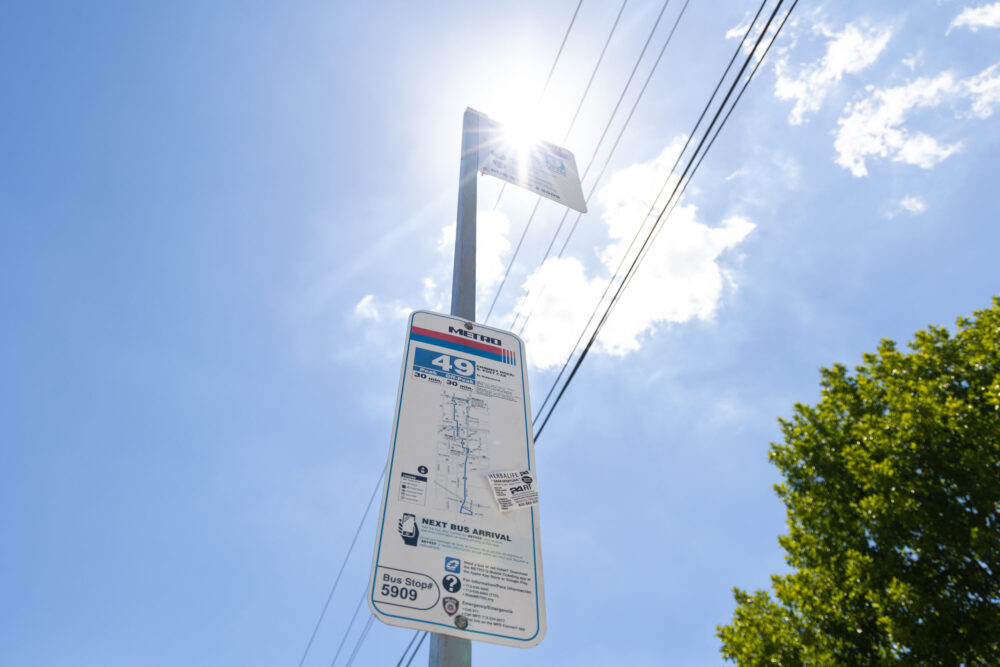 This story is part of an investigative series into the impact of extreme heat on Metro riders. You can read part one and part two of the investigation. We also produced a podcast, Hot Stops: How Houston Bus Stops Get Dangerously Hot.
Some local officials, METRO bus riders and advocates are calling for change after a Houston Public Media investigation found Houston bus stops reached dangerously hot temperatures.
"As an advocate, I feel vindicated in many ways by the reporting," said Gabe Cazares, Executive Director of LINK Houston, a local advocacy group focused on public transit. "This is something we experience every single day."
He said the findings from our pilot study tracked with his personal experience taking the bus every day and the experiences of the riders his group advocates for.
We took temperatures at 21 bus stops in July and August, and compared them to other sources of shade, such as tree shade when it was available. We found that bus shelters inconsistently provided protection against the heat, while tree shade was an effective and consistent form of cooling for transit riders:
Bus shelters often reached temperatures that pose an "extreme threat" of heat illness.

In some cases, bus shelters were hotter than standing in direct sunlight.

Tree shade was on average twice as cool as bus shelter shade.

Tree shade never made the heat worse.
"The data that y'all collected was staggering and deeply concerning," said Harris County Commissioner Lesley Briones representing Precinct 4. "In the most positive way, right? What are we going to do about it in terms of actionable changes?"
After publishing our findings, more than two dozen riders filled out a survey, sharing their experiences with the heat and their ideas for improving it. Twenty respondents said they've experienced symptoms of heat illness while waiting for the bus, such as feeling dizzy, faint, or nauseous. One rider said they passed out.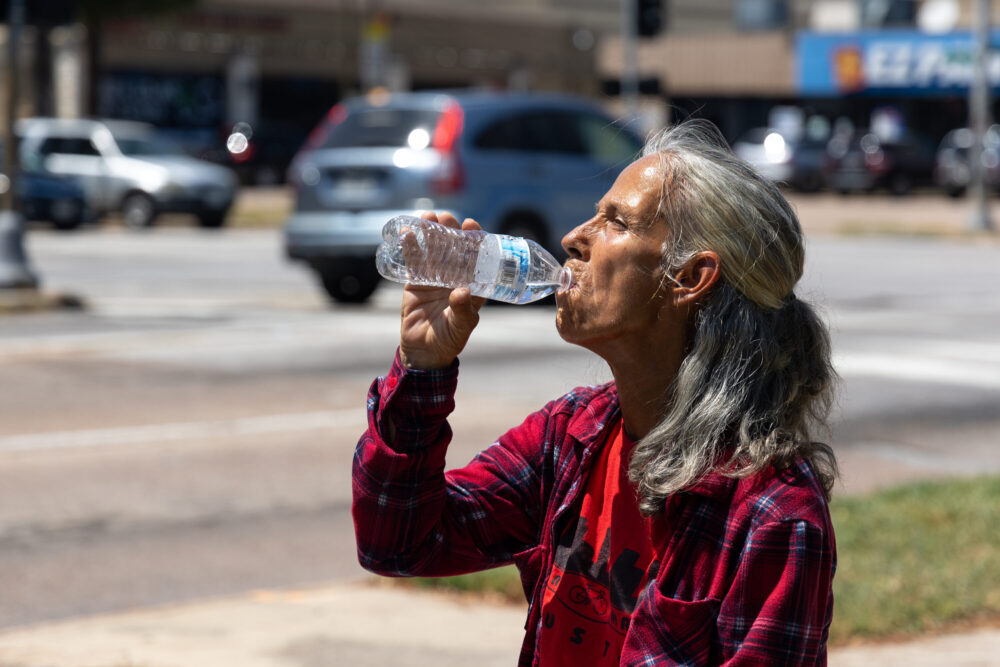 Bus rider Austin Stakes said he wasn't surprised that it was hotter inside some bus shelters.
"Standing inside [a bus shelter] at three in the afternoon on a triple-digit day is absolutely brutal," he said. "You can feel the heat radiating from the material against your back."
Houston City Council Member Sallie Alcorn, who is up for re-election, said she plans to bring up the issue with her fellow council members, especially those on the Transportation, Technology and Infrastructure committee.
"I'm going to bring it up (to City Council) because I'm a bus rider, and I would like to talk to METRO about this," Alcorn said.
METRO has plans to roll out 2,000 new bus shelters in the next five years. The new designs are based on the most common shelter type in Houston, which has clear panels on three sides. These types of shelters are where we observed hotter temperatures inside than in direct sunlight.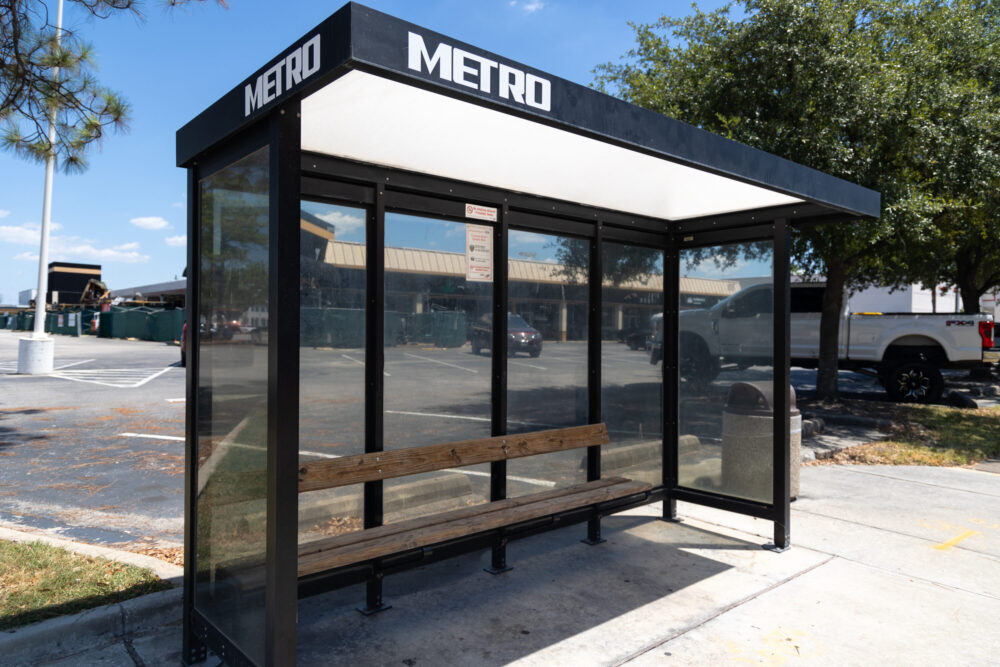 Alcorn said given the findings of our study she wants to know what METRO plans to do moving forward.
"Because I think it weighs in, you don't want to have this study done and then have the same old standard design," Alcorn said.
While she plans to reach out to METRO about the bus shelters, Alcorn said the idea of planting trees near bus stops stood out to her as something the city could address.
The city has a goal of planting 4.6 million trees by 2030, but our reporting revealed that three years in there's still no coordinated strategy around where to plant trees to reduce heat.
"We throw out the 4 million trees all the time, but there's not really a strategy," said Alcorn.
Alcorn said our investigation got her thinking about the need to plant trees in areas where shade is most sorely needed by pedestrians and transit riders, including next to bus stops and major transit streets. She said she'd like to see a consortium formed.
"Some kind of consortium to look at how Houston tackles this in a strategic and a smart way," Alcorn said. "Rather than just scatterplot — 'oh, let's plant some trees here and plant some trees there and hope it all works out.' I mean, the bus (stops) are a great kind of citywide, countywide way to start. That would be a good project to take on."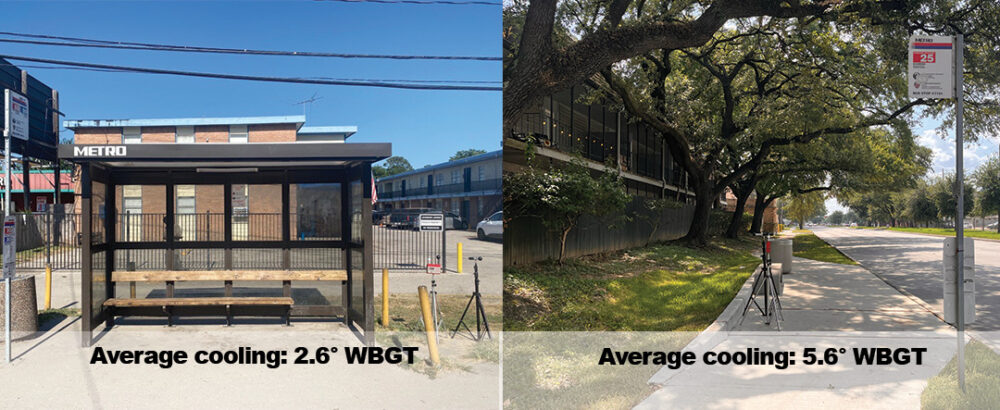 A countywide project is an important way to approach solutions, but there's also an opportunity for more local projects to take on the transit lens.
City Council Member Tiffany Thomas brought up the idea of an upcoming infrastructure project on Bissonnet Street in Southwest Houston, where a popular bus line runs — the 65 Bissonnet. A $25 million grant from the Department of Transportation will help rebuild 7 miles of sidewalk in the coming years.
Thomas is now considering how to redesign the pedestrian pathways to better incorporate trees that can benefit transit riders, she said in an interview after reading part one of our investigation.
"This is the opportunity to do it, right?" said Thomas. "Because if you just do it in the current way, in the existing structure, it's difficult. But if we're gonna go in and gut it up anyway and kind of redesign what that area looks like from a walkability/access (point of view), why wouldn't we add the tree component?"
The county is also working on other projects in that part of town that relate to both heat and transit. County Commissioner Lesley Briones said they're investing $9 million into redesigning and installing 200 new bus shelters in Precinct 4 in the Gulfton/Sharpstown area, in partnership with METRO.
"We don't need bus shelters that are actually going to be hotter than as if they were not there," Briones said after seeing the data from our investigation. "So how do we design them in a way with cooling, lighting for public safety purposes, but also just to create a welcoming environment."
She said the goal is to come up with a new shelter design that could be used in other parts of the region.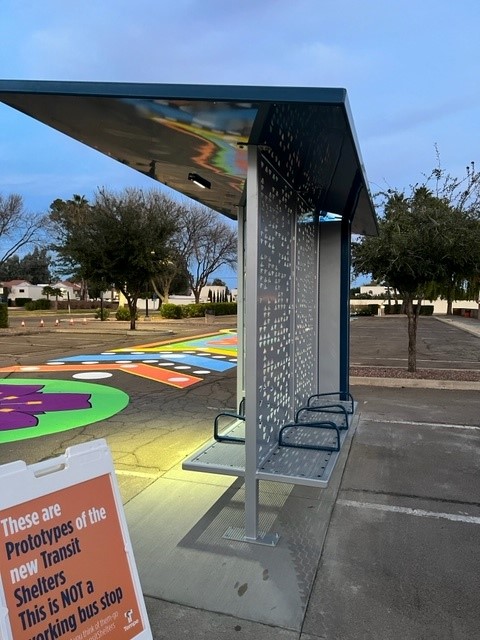 Several riders who filled out our survey said increasing bus frequency and reliability needs to be an important part of the equation too.
"I think the most important (solution) is increasing the frequency and reliability of buses," said Gabe Cazares with LINK Houston. "The more frequent and the more reliable our bus network is, the less time people are actually going to spend outside."
He thinks if officials took the bus more often they would better understand the issues facing riders.
"I invite anyone from Metro to go with me and spend some time on the transit system," Cazares said. "Not on the special buses designated for when board members have a public appearance or somebody from the federal government so that we can have a performative experience. If folks actually spend time using the system that we have today, I think their reaction would be a lot different."