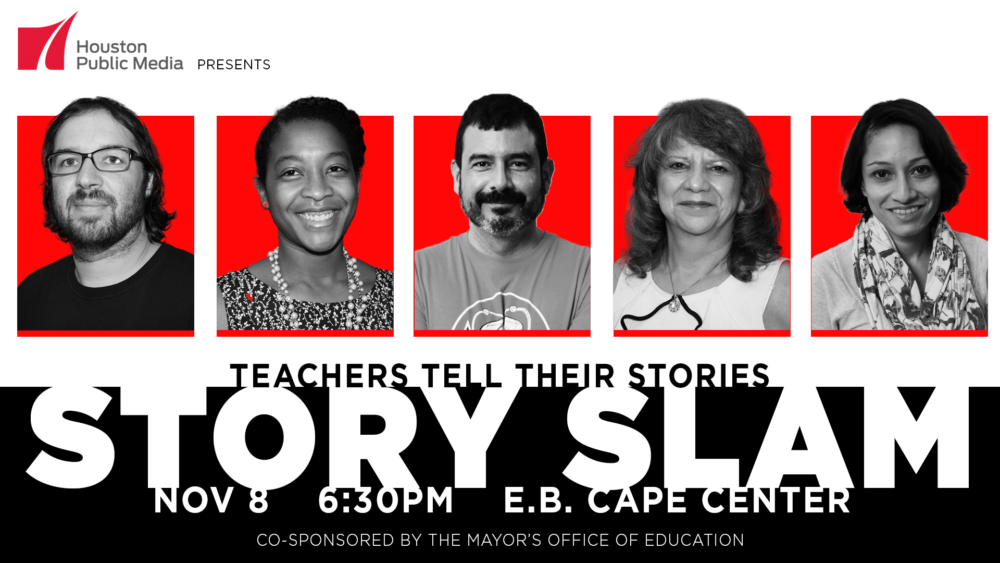 Houston Public Media has been following innovations and changes at Furr High School in an on-going series this year.
Now it's time to hear from teachers all across Houston with their ideas — big and little — to improve their schools and students' lives. This story-telling event will feature true stories, as teachers step up to the mic to share tips — and inspiration – from their classrooms.
Please join us for special, LIVE story slam, hosted by poet and artist Marlon Lizama, and co-sponsored by the Mayor's Office of Education.
Wednesday, Nov. 8, 2017
6:30 – 8:30 PM
E.B. Cape Center, 4501 Leeland St., Houston TX 77023
(Parking Entrance on S. Lockwood Drive)
RSVP here
Story-tellers will include Paul Castro, superintendent of Houston's A+ Unlimited Potential, a mobile school; writer, poet and teacher Leslie Contreras Schwartz; college coach Yolanda Norman and others.
The series is produced with support from the Education Writers Association Reporting Fellowship program.