It's hard to keep principals at schools with high poverty. Research shows that over a quarter of those schools lose their principals each year.
In East Houston, Furr High School tells a different story. There the principal is going on 17 years at the helm and leads the most ambitious endeavor on campus yet.
Meet Bertie Simmons. She's five feet tall. She wears red lipstick, thick rimmed glasses and a white bob. Next month she turns 83 years old.
On this recent morning, she welcomed a mom to her office.
"Have a seat. So what's going on?" Simmons asked.
"Horrible, I've had a horrible week," Yasmin Rodriguez answered.
Rodriguez came with her son Alex. He recently transferred but he's failing his classes and gets in trouble for talking back. On top of that, Rodriguez just lost her job. Simmons tried to help.
"Could you have passing grades? What if I got you a mentor?" she asked Alex.
She called in the football coach, Cornell Gray. He looked Alex up and down and told him to bring shorts for practice tomorrow.
"Alright, well, you're in trouble now because Simmons put me on you," Gray said.
His mom brightened and quipped: "That's a good thing."
Rodriguez is a single mom and likes the idea of her son having a male role model.
Simmons spent half an hour with Alex and told some of her story – how she became principal here when his mom attended Furr.
"Boy, if you think I'm sexy now, I was hot then! No, no, not really, I'm acting silly. I want you to know that we care about the kids in this school, and that's why I'm taking this much time with you. Because I'm not going to let you come here and fail," Simmons said.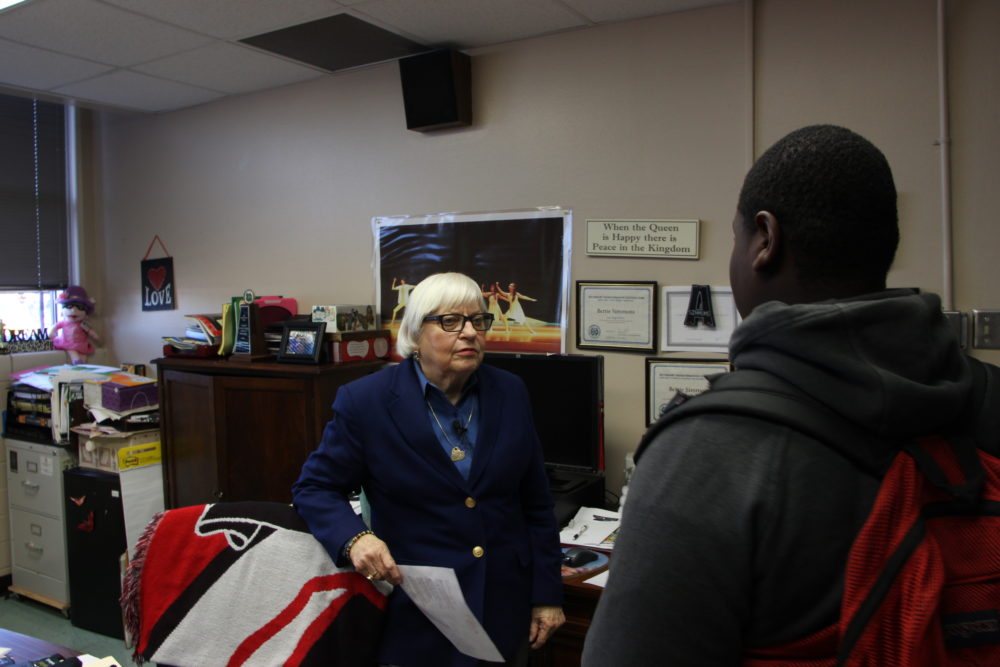 This is how Simmons spends a lot of her day. She sees a steady stream of people: teachers, students, district officials. Most bring problems, though some share good news. In between visits, Simmons might snack on ice chips and Nutter Butter cookies.
The day quickly becomes a case study of how this longtime, successful principal leads. It's all about relationships.
"Mainly there has to be a deep, abiding, sincere concern for all human beings," Simmons said of her philosophy. "And I don't find a lot of people going into education and especially the principal-ship who have that. And that's not a put-down. It's just reality."
Next on the day's meetings, it's a tense meeting about bullying with some moms and their daughters.
The mothers urge their girls to focus on school.
"You know, everybody needs to not be friends, but to get along to make it," said Renee Vessell. "Because you never know who's going to need who on the outside of this world."
Simmons backed her up: "Listen to the mother here, listen to all the mothers. They're not yelling and screaming and carrying on and acting like – Do you know how y'all acted in my office? Y'all were cray, cray, every single one of you."
After the meeting, Simmons said that sometimes she's crazy herself, in a good way.
"I think I'm a little cray cray. I mean, I'm determined that these kids are going to have a chance," she said.
She came out of retirement to lead Furr in 2000. Back then, gangs ruled the campus. Barely half the kids graduated. Simmons thought she'd last three months. Seventeen years later, she leads a national experiment at Furr to transform the high school. Last fall, the school won a $10 million grant from the XQ Institute, a foundation led by Laurene Powell Jobs, the widow of Apple co-founder Steve Jobs.
Experts say school turnaround efforts are difficult without stable leadership.
"It's really just sort of having the gift of time, that you start something and you have the opportunity to see it through," said Laura Hamilton, who studies ed reform with the national research group RAND Education. She said that time lets principals make real change.
"As opposed to what often happens where you start something and you're just kind of getting used to it and the next new thing comes in because there's a leadership change, or policy change or whatever it might be," Hamilton explained.
Hamilton cautioned, however, that a principal's skills must match the school's needs, and sometimes turnover can be a good thing.
From her decades of experience, Simmons said that there's something else needed for real results in education: Principals have to care deeply for all their students.
Simmons reflects on that every night.
"And wonder if I've done enough. That's the main thing, that I give enough. Did I care enough? Could I have done something differently? I don't want to sound mushy but I'm just being honest," she said.
She added that it's that concern for her students that keeps her going.